'F**k me, it's gone down!' Passenger plane plunges into Russia's Lake Baikal (VIDEO)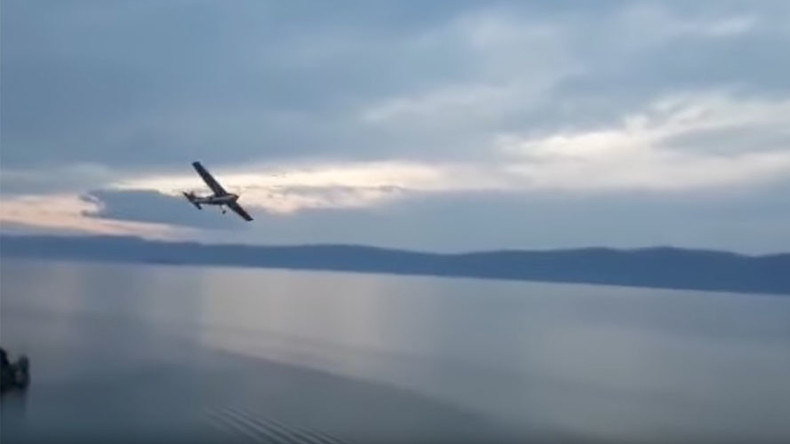 A Cessna 172R plane making an unsanctioned flight over Siberia's Lake Baikal crashed into the water after a suspected engine failure. All four on board survived, after being pulled out by bystanders and given medical aid by an off-duty doctor.
The crash – filmed against the backdrop of a spectacular sunset – was anticipated by several tourists visiting the world's most voluminous lake, after they noticed the US-made four-seater plane gliding alarmingly close to the surface. Several told Baikal-Daily, a local news outlet, that the propeller in front of the cockpit had stopped rotating.
The video capturing the moment when the $300,000 aircraft made its final descent is accompanied by a series of increasingly excitable exclamations, until one woman shouts out "F**k me, it's gone down," as it hits the water, sending a wave across the usually placid surface of the lake.
In the next video, a rubber speedboat and a larger catamaran are seen making their way to the crash site.
"There was a young teen inside, I brought him to his senses, and he helped me get the others out," said Dmitry Sirik, the captain of the 'Galsan', the pleasure catamaran in the video.
Olkhon, Baikal's biggest island, where the crash occurred, has fewer than 2,000 inhabitants, with only two medical staff and no x-ray at the local surgery.
But one of the tourists on shore happened to be a surgeon and gave first aid to the men.
"Two people were hurt – the two passengers of the plane," Vera Malanova, the head of the local administration, told RIA Novosti. "The pilot is unhurt and a boy, born in 2003, is in shock and has developed a stutter."
The extent of the injuries suffered by the passengers will remain unknown until tests are completed in regional center Irkutsk, where they have now been transported.
The Irkutsk news outlet Newsbabr reported that the plane, which now lies at the bottom of the world's deepest lake, was used to give impromptu aerial tours of the local animist holy spots.
Locals also told the news outlet that the passengers and the pilots on such sorties are often drunk, though there is no evidence that this was the case on Sunday. Russia's aviation authority has opened an investigation into the incident.