American provocateur: Why North Korea is going ballistic over missiles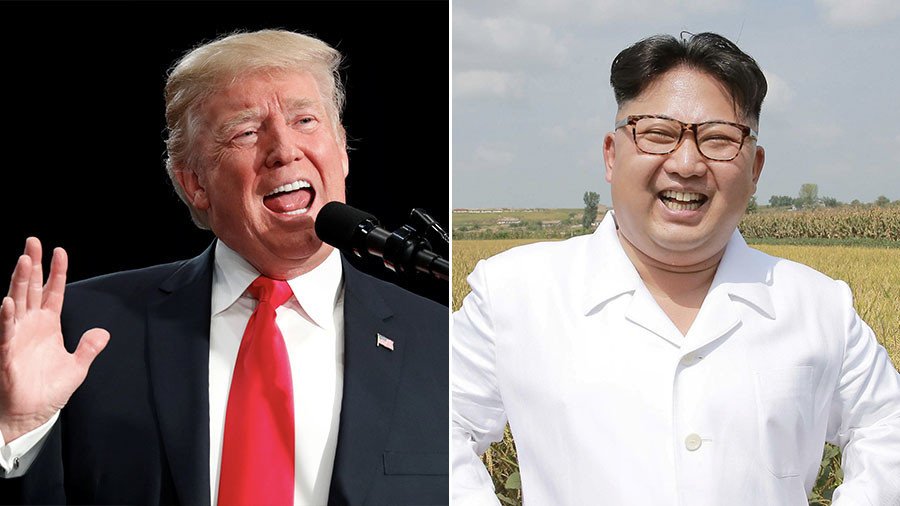 With each passing year, North Koreans mark the change of seasons unlike any other people in the world, watching the US and South Korea open massive military games. With Trump, the saber rattling has increased exponentially.
There are few things more unnerving than watching two state leaders, with a nuclear arsenal at their disposal, lobbing verbal grenades at each other, as if the survival of entire planet was not part of the equation.
Yet, that is exactly what US President Donald Trump and North Korean Supreme Leader Kim Jong-un have been doing for about a year now.
By now, the routine has become all-too familiar: In cyclical fashion, the United States and South Korea open military games, or a US armada suddenly appears on the horizon, while Pyongyang puts on a display of strength to prove its mettle. This leads to a series of volatile outbursts from Trump as the tension barometer ratchets up to a new level.
In April, for example, the Trump administration announced it was dispatching the USS Carl Vinson aircraft carrier group to the Korean Peninsula. This announcement came just days after Washington launched a cruise missile attack against Syrian forces in Homs. This first-ever attack against Syria sent a not-so-subtle message to Pyongyang about the American leader.
"We're sending an armada," Trump told Fox News.
At the very same time, the US and South Korea were already involved in Foal Eagle, which is described as one of the largest air, land and sea military exercises in the world. About 3,600 US service members were deployed to join the 28,000 US troops already based in South Korea for the annual exercise, Pentagon spokesman Navy Capt. Jeff Davis told reporters.
To say that Pyongyang was already feeling on edge at this time would be a huge understatement.
Responding to the presence of the Carl Vinson strike group in the Korean Peninsula, the Rodong Sinmun, the newspaper of the North's ruling Workers' Party, said, as quoted by Reuters, "Our revolutionary forces are combat-ready to sink a U.S. nuclear-powered aircraft carrier with a single strike."
On July 4, the US Day of Independence, Pyongyang successfully test-fired its first ICBM, the Hwasong 14, while vowing to continue sending more "gift packages to the Yankees."
Soon after the launch, Trump responded via Twitter:
"North Korea has just launched another missile. Does this guy have anything better to do with his life? Hard to believe that South Korea and Japan will put up with this much longer. Perhaps China will put a heavy move on North Korea and end this nonsense once and for all!"
The fiery rhetoric continued into August, after the United Nations Security Council (UNSC) unanimously voted to impose a new round of sanctions on Pyongyang in response to its latest ballistic missile tests.
"North Korea best not make any more threats to the US. They will be met with fire and fury like the world has never seen," Trump said.
Two days later, he remarked, "maybe that statement wasn't tough enough" and then went on to tweet that "military solutions are now fully in place, locked and loaded."
Trump's string of threatening tweets came just before the annual Ulchi Freedom Guardian (UFG) exercise, which involved more than 50,000 Korean and 17,500 US soldiers simulating a full-scale N.Korean invasion scenario.
Kim Kwang Hak, a researcher at the DPRK's Institute for American Studies, blamed Trump's outbursts and threats of "military solutions" as part of the reason Pyongyang feels compelled to put its missile tests on the fast track.
"What should not be overlooked is that such military moves have been conducted at a time when Trump posted on Twitter such letters, reading that the US failed to handle North Korea for the past 25 years, and only one thing will prove effective, while frequently hinting at 'military option' backed by such rubbish as 'a calm before a storm' and 'total destruction,'" Hak wrote, as quoted by the Independent.
A farewell to arms?
Amid the non-stop ratcheting up of tensions between Washington and Pyongyang, the one component that is missing is a willingness to sit down and find some way out of the standoff.
Not everyone in the Trump administration, however, seems opposed to the idea of good old fashioned sit down at the negotiating table. In October, Secretary of State, Rex Tillerson, told reporters the US has the ability to communicate directly with North Korea.
"We are probing, so stay tuned," Tillerson told reporters travelling with him to China, according to Reuters. "We ask, Would you like to talk? We have lines of communications to Pyongyang. We're not in a dark situation."
But Trump quickly dashed hopes that talking with Pyongyang was an option.
"I told Rex Tillerson, our wonderful Secretary of State, that he is wasting his time trying to negotiate with Little Rocket Man," Trump tweeted. "Save your energy Rex, we'll do what has to be done!"
In needs to be emphasized that in September, the US rejected plans put forward by Russia and China for a so-called "double freezing" strategy that would halt US-South Korean drills, while putting the brakes on Pyongyang's weapons testing. US Ambassador to the UN Nikki Haley dismissed the plan as "insulting".
"When a rogue regime has a nuclear weapon and an [intercontinental ballistic missile] pointed at you, you do not take steps to lower your guard," Haley said, speaking at an emergency session of the UNSC. "No one would do that. We certainly won't."
Considering that just several days earlier, Pyongyang conducted an underground thermonuclear test – which was so powerful it triggered an "artificial" 6.3 earthquake – Haley's refusal to look for a diplomatic solution to the standoff seems all the more difficult to understand.
Prior to the detonation, North Korea's official news agency (KCNA) reported that the Nuclear Weapons Institute has created a "more developed nuke," that can be fitted on an intercontinental ballistic missile (ICBM).
Still, the fiery rhetoric continued.
Later in September, Trump delivered a disturbing speech before the UN General Assembly where he pledged to "totally destroy" North Korea if it continued to threaten US interests. "If the righteous many don't confront the wicked few, then evil will triumph," he said.
No time for diplomacy
In October, Trump said he thought negotiating with Kim Jong-un was a "waste of time." But apparently Trump didn't find it a "waste of time" to begin in the same month, what was dubbed the Maritime Counter Special Operations Forces Exercise (MCSOFEX).
The maneuvers carried out jointly with South Korea involved fighter jets, helicopters, naval ships and submarines, including the American aircraft carrier USS Ronald Reagan.
Once again, North Korea upped the ante by demonstrating, in the face of overt threats by the United States, that it had the ways and means of defending itself.
On November 29, Pyongyang stunned the world by launching a new Hwasong-15 type ballistic missile that traveled some 950 kilometers (690 miles) before splashing down in the Sea of Japan.
North Korea said the missile reached an altitude of around 4,475 kilometers (2,780 miles), more than 10 times the height of the International Space Station. It flew 950 kilometers (690 miles) during its 53-minute flight. Similar altitude and distance figures were also cited by the South Korean military.
Trump, however, seemingly unmoved by the launch, said it was a "situation that we will handle," adding that it won't change his approach to the crisis on the Korean Peninsula.
Pyongyang said, meanwhile, that it is prepared to sit at the negotiating table for peace talks on the condition it is recognized as a nuclear power, the Russian delegation to North Korea said.
"They [Pyongyang] are ready to talk, however the [North] Korean side has its own condition – it should be recognized as a nuclear power," Vitaly Pashin, a member of the Russian delegation, told news agencies upon their return.
North Korea is capable of hitting any target in the US with its warheads "at any moment," warned Pashin, who is also a member of the Russian State Duma.
Pyongyang repeated the claim that the purpose of developing its missile technology is to "defend the sovereignty and territorial integrity of the country…"
Meanwhile, the only response from the United States has been to continue with military drills in the Korean peninsula, which guarantees to intensify the dangerous cycle of ever-increasing tensions to breaking point.
Indeed, deep into winter, the saber rattling amid boots on the ground provocations continues, as the US and South Korea opened "unprecedented" air force drills on December 4, code-named Vigilant Ace 18, which will feature, apart from "hundreds of US and South Korean aircraft," six F-22 Raptor stealth jets and six F-35As stealth jets.
Russian Foreign Minister Sergey Lavrov said the US had previously pledged that new war games would not come until next spring, thereby "allow room to find a lasting diplomatic solution." Instead, Washington has chosen to "escalate regional tensions."
Presently, there seems to be some growing concern within the ranks of the Western military bloc as the United States still refuses to sit down and talk while, at the same time, North Korea's striking capabilities grow.
On the eve of the US-South Korean drill, NATO, understanding that much of the 29-member military bloc now falls within range of North Korea's ballistic missiles, are at a dangerous standoff.
NATO Secretary General Jens Stoltenberg, during a meeting of foreign ministers in Brussels, said the "ballistic missile fired last week showed that all our States may be exposed to this danger."
This was a significant statement, and a low-key way of telling the Trump administration to cool down the rhetoric, otherwise countries outside of Asia stand a high chance of being targeted.
Thus, it seems, the US-North Korea has come full circle, with the Trump administration possibly and hopefully coming around to the realization that it may have to live with the nuclear-armed communist country. And possibly, even open up, however reluctantly, negotiations with the reclusive communist state.
Robert Bridge, for RT
You can share this story on social media: