N. Korea: ICBM test used new launch vehicle, warhead able to re-enter Earth's atmosphere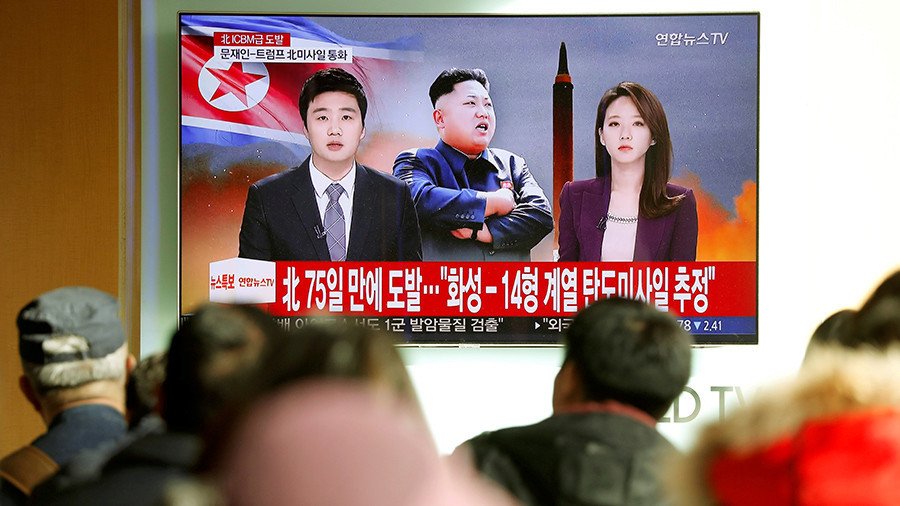 North Korea says the intercontinental ballistic missile (ICBM) it launched on Wednesday was fired from a newly-developed vehicle, and claims its warhead could withstand the pressure of re-entering the Earth's atmosphere.
State media reported on Wednesday that North Korean leader Kim Jong-un personally oversaw the missile test and referred to the new launcher as "impeccable" and a "breakthrough."
North Korea fired a ballistic missile which splashed down in the Sea of Japan early Wednesday, according to South Korean, Japanese, and US militaries. The Pentagon's initial assessment indicated it was an intercontinental ballistic missile (ICBM).
Pyongyang said the missile reached an altitude of around 4,475 kilometers (2,780 miles), more than 10 times the height of the International Space Station. It said it flew 950 kilometers (690 miles) during its flight, which lasted 53 minutes. Similar altitude and distance figures were previously cited by the South Korean military.
Pyongyang announced in a statement read on North Korean state TV that the missile was the Hwasong 15, and is capable of hitting the US mainland. It went on to declare the country to be a full-fledged nuclear force.
"North Korean leader Kim Jong-un announced that the country has realized the great historic cause of completing a state nuclear force," the statement said, as cited by Yonhap.
If the missile was indeed a Hwasong-15, it would represent a new development for Pyongyang. Other launches taking place in 2017 were either said to be the older Hwasong-14 ICBM, or the intermediate range (IRBM) Hwasong-12.
Kim says his country's nuclear weapons are aimed solely at "defending the sovereignty of the nation from the US nuclear threat and protecting the peaceful life of the people." He has also stated that no other country is under threat from Pyongyang's nukes.
The most recent launch has been condemned by Moscow. "Another missile launch is a provocative act that triggers further escalation and moves us further away from crisis settlement," Kremlin spokesman Dmitry Peskov told reporters earlier on Wednesday. "We do condemn the launch and hope all the parties will exercise restraint which is so much needed to prevent the situation in the Korean peninsula from going the worst way."
China also expressed "grave concern" over the launch, with Foreign Ministry spokesman Geng Shuang stating that Beijing hopes all parties can act cautiously to preserve peace and stability. Both China and Russia have long been urging for Washington and Pyongyang to accept their 'double freeze' proposal, which would see the North suspend its nuclear and ballistic missile tests in exchange for a halt in joint US-South Korea drills. However, that plan was swiftly rejected by the US in August.
North Korea's latest statement on the launch came after US Senator Lindsay Graham (R-SC) said the US is willing to go to war with Pyongyang "if things don't change." He stated that President Donald Trump is choosing America over regional stability, and acknowledged that "a lot of people would get hurt and killed" in the event of any war.
You can share this story on social media: