US pumping weapons into Asia-Pacific using N. Korea as excuse, Russia tells Japan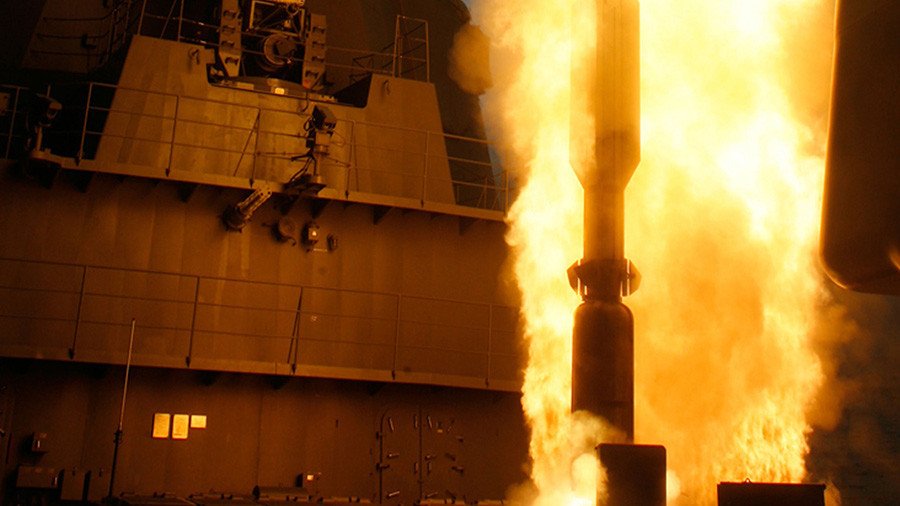 Washington is militarizing the Asia-Pacific, "pumping" weapons and kit into Japan and South Korea in an "absolutely disproportionate" response to the North Korean threat, the Russian Foreign Minister said. Tokyo won't be calling the shots, he warned.
Sergey Lavrov, Russia's Foreign Minister, was speaking to reporters after hosting his Japanese counterpart, Taro Kono, on Friday in Moscow. The top diplomat said Moscow deems unacceptable "attempts to pump armaments and military equipment into the [Asian] region, and to militarize it citing the North Korean nuclear threat."
"We believe measures taken by the US and its allies in the region are absolutely disproportionate to what is required," Lavrov added. Russia has voiced deep concern over the fact that "either Japan or South Korea is becoming a territory hosting the US global missile defense system being deployed in the region under the guise of [responding to] North Korean threat."
He said that a similar American ballistic missile shield is being deployed in Europe, with Washington claiming it is to protect the continent from Iran's missiles. "If you look at the map," Lavrov stated, "you will see this US missile defense system is miraculously surrounding Russia and China."
Disagreeing with a remark by Foreign Minister Kono, who said the US-built missile defense shield will not damage Russia-Japan ties, Lavrov said: "As we know the Americans, we quite seriously doubt they would agree to hand control over some element of this global missile defense system to someone else."
He reiterated that Aegis Ashore system – parts of which recently went online in Romania, with more under construction in Poland – can also be equipped with Tomahawk cruise missiles – the kind of weapon whose land-based variants are prohibited under the 1987 US-Russia Intermediate-Range Nuclear Forces Treaty.
Moscow does not welcome Pyongyang's "missile and nuclear ventures that blatantly violate a UN Security Council resolution", Lavrov told his Japanese counterpart. In the meantime, Russia as well as China "insist that other parts of the resolution, particularly the ones that call for revival of talks [with North Korea], should also be implemented."
READ MORE: US Navy aircraft with 11 on board crashes into ocean southeast of Okinawa
The meeting comes at a time of heightened tensions in the Korean peninsula. Over the past months, Washington has been signaling that it was considering military actions against North Korea, but stopped short of delivering verbal threats. However, the US and its regional allies Japan and South Korea stepped up military exercises involving long-range bombers, carrier strike groups and amphibious forces.
In November, three US carrier strike groups held tri-carrier, multinational drills off the Korean coast in the latest show of force in the region. The USS 'Ronald Reagan', USS 'Nimitz' and USS 'Theodore Roosevelt' were joined by Japan's 'Ise', 'Inazuma' and 'Makinami' warships, as well as close to a dozen South Korean ships. North Korea furiously condemned the maneuvers, which also involved US B-1 strategic bombers.
Next month, the US and South Korea's militaries will be carrying out Vigilant Ace wargames, featuring six F-22 Raptor and four F-35A Lightning American stealth jets, as well as thousands of troops.
You can share this story on social media: