US, South Korea launch large-scale air drills amid spiraling nuclear tension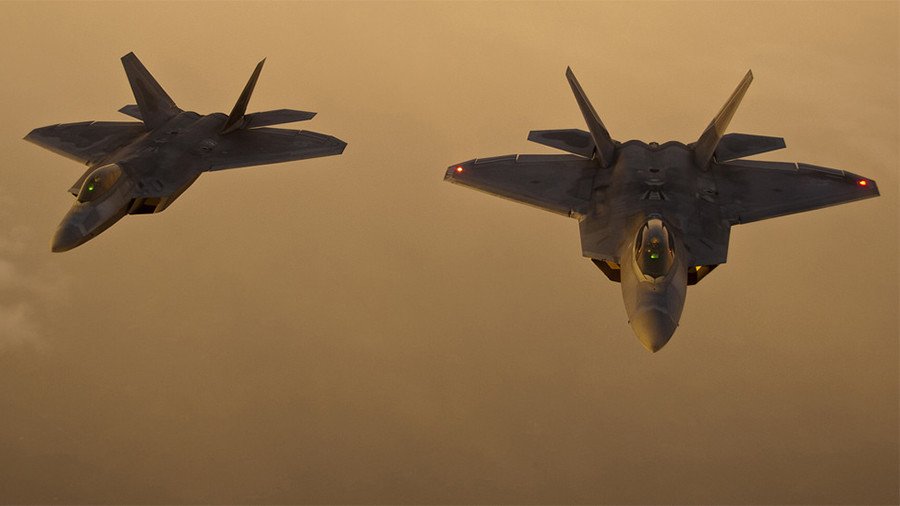 Unprecedented joint air force drills between the US and South Korea, featuring hundreds of warplanes, have kicked off despite dire warnings from Pyongyang and Moscow's calls to avoid new provocations after the recent launch of North Korea's new ICBM.
The Vigilant Ace 18 drills, which Seoul claims are of a purely "defensive nature," will see hundreds of US and South Korea's aircraft honing their skills by attacking mock North Korean nuclear and missile objects in different war time scenarios, Yonhap reported, citing South Korea's defense ministry. They will for the first time feature six F-22 Raptor stealth jets, that arrived to South Korea specifically for the war games along with six F-35As stealth jets.
Part of the US force taking part in the wargames, including a dozen of F-35B stealth jets, will fly from a Japanese airbase, where they have been stationed.
The large-scale maneuvers, reportedly "the largest-ever combined air force drills between the allies" will also involve dozens of other fighter jets on both sides, as well as American B-1B Lancer strategic bombers and carrier-based electronic warfare aircraft.
A total of 12,000 personnel and over 230 military aircraft will be engaged in the drills, that will run to December 8.
Days after the air force exercise was announced, North Korea test-launched its new Hwasong-15 missile, which it claims is capable of reaching the whole US mainland. Pyongyang lashed out at the drills as incitement to a nuclear war.
"The Trump team is begging for nuclear war by staging an extremely dangerous nuclear gamble on the Korean peninsula," North Korea's Foreign Ministry stated in a statement on Saturday.
Seoul rejected the accusations, insisting its massive drills with US is "an annual joint military exercise among the allies of a defense nature," Baik Tae-hyun, spokesman of South Korea's Ministry of Unification said on Monday, as cited by Yonhap.
He added that Seoul would seek a peaceful resolution of the crisis together with international community.
While denouncing Pyongyang's recent launch, Moscow has been accusing Washington of provoking North Korea with its saber-rattling in the peninsula. Foreign Minister Sergey Lavrov has recently said that the US had previously made it clear that new wargames might not come until spring – which would allow room to find a lasting diplomatic solution – but has instead escalated its military exercises with South Korea.
At the same time, various US officials have been directing belligerent rhetoric at Pyongyang on almost a daily basis. Nikki Haley has recently threatened that the North Korean regime would be "utterly destroyed" in case of war – words Lavrov slammed as a "bloodthirsty tirade."
Others have been stoking the looming specter of war with warnings that conflict is growing ever closer, like White House national security adviser HR McMaster who said the probability of war is " increasing every day," and Senator Lindsey Graham, who has called on the Pentagon to start evacuating families of US servicemen staged in South Korea.
Meanwhile, it was reported that South Korea army has launched a "decapitation unit" aimed at assassinating North Korea leader Kim Jong-un in case of war, The Korea Times reported. According to the newspaper, the military initially planned the launch the unit in 2019, but has now sped up the timeline.
You can share this story on social media: