Western MSM 'shocked' at 60,000-strong nationalist march in Warsaw – but are they really?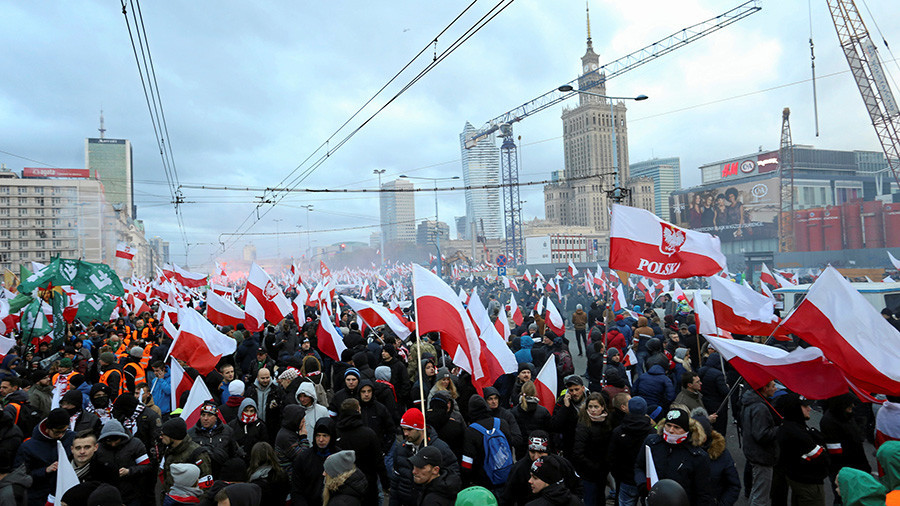 The mainstream media coverage of the annual nationalist march in Poland was far more critical this year than on previous occasions. Considering how similar events were previously covered, analysts wonder if the change results from Brussels's feud with Warsaw.
Something terrible happened last Saturday in Poland. A crowd of 60,000 neo-Nazis, fascists, white supremacists, far-right nationalists, anti-Semites and religious fanatics marched in the streets of the capital Warsaw in the biggest display of bigotry and hatred the world has seen in years. And like-minded radicals from all around Europe sent their delegations to the rally. And the Polish government not only failed to condemn this march of the right, but dared to call the event "beautiful." The terror!
At least, that's what one could read in the aftermath. The indignation and outrage was expressed on Twitter from both sides of the Atlantic, and by both conservatives and liberals.
Tens of thousands of neo Nazis showed up to march in Poland today and chant for an "all white Europe."In case you didn't think the scale of hate we once naively thought was impossible could indeed be possible again.

— Sally Kohn (@sallykohn) November 12, 2017
The Fascist march in Poland should receive significant world wide media attention. 60,000 people is a frighteningly large number.

— Steve Schmidt (@SteveSchmidtSES) November 12, 2017
Media coverage was likewise critical. The Independent reported with horror that one of the marchers said he wanted "'to remove Jewry from power" in Poland, and that one banner held by demonstrators read: "White Europe of brotherly nations." The Daily Mail said the march was "the largest in recent years" and lamented the presence of "xenophobic banners" and the decades-old far-right symbol "falanga." The Washington Post ran a piece by Anne Applebaum, which depicted a "shocking surge" of "neo-fascists" in Poland, partially blaming it – surprise! – on Russia. The Washington Post erroneously attributed one of the slogans used by the marchers, "We want God" to Donald Trump, later specifying that the US president had simply cited a traditional Polish song during a speech in Poland. Al Jazeera dug into anti-immigrant messaging of the rally and the ties between Polish nationalism and the Catholic Church.
The indignation in reaction to the Polish Independence Day march may be justified, but it should not come as a surprise. A similar nationalist-organized event in 2016 had 60,000 to 75,000 participants, according to different estimates. And guess what, some of them carried anti-Muslim banners, the falanga symbol, and a banner that read: "Death to enemies of the fatherland." The rally in 2015 numbered some 70,000 and was hailed the some Polish media as a major breakthrough for not being violent, unlike in previous years.
In each of the four years prior to that, nationalists clashed with the police, resulting in dozens of injuries and arrests during the events. In 2013, several dozen nationalists marked Poland's independence by attacking the Russian embassy. That year, some 20,000 took part in the big march, by the way. As for this narrative about Poland becoming a magnet for far-right groups from all over Europe – in 2012, Polish police arrested over 200 people during the march, almost half of them German nationals. So, probably, there is no shock now for people who have been paying attention.
The Anglosphere's warped Cold War history erasing Poland's anti-Semitic far-right politics in 1930s leaves westerners shocked by strength of Poland's far-right strength today https://t.co/ocx25bCUTa

— Mark Ames (@MarkAmesExiled) November 12, 2017
There is no denying that Polish nationalism is no bastion of some of the values and goals promoted by EU functionaries. The people on the march were showing support for their government's opposition to policies like admittance of refugees from the Middle East or legalization of same-sex marriage – which goes against Catholic tenets. But would all of the 60,000 marchers endorse Jewish pogroms or a Nazi Germany-style 'final solution' for the Muslim population in Europe, which would justify the names they had been called? Doubtful.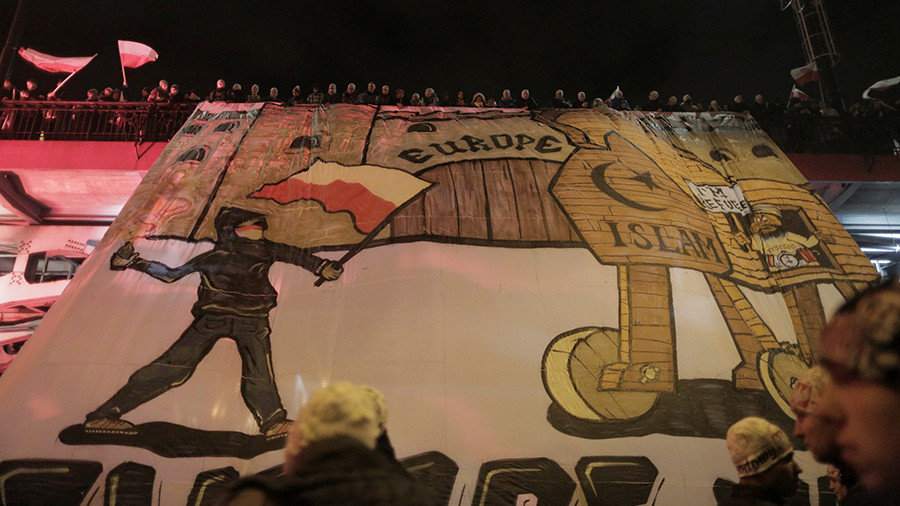 Western mainstream media have to a certain degree changed the way they covered the annual march and Polish nationalism, said Justin Dargin, geopolitical expert at the University of Oxford. "I would say that there has been a shift in how many Western media outlets are covering the marches in Poland. Previously, when there were similar marches and protests involving organizations that were anti-refugee in focus, media coverage tended to be much more restrained," he told RT.
While right-wing sentiment has been taking a stronger root in Poland lately (as well as in some other European countries like Hungary), it alone does not explain the change of mood in the media, according to Gábor Stier, senior foreign policy analyst at Hungarian conservative daily Magyar Nemzet and an expert from the Russia-based Valdai Club. "The nationalist moods indeed get stronger in Poland, but I wouldn't call it overreaching or dangerous. But the moods towards Poland in the West have changed too. These two trends overlapped, so the criticism of the march was very loud this year," he told RT.
The change from the previous years is apparent. The Independence Day marchers were"members of far-right groups" and "radical nationalists" for the media just a year ago. The media didn't refer to them with loaded terms like "fascists," even when the rallies turned violent.
What apparently changed over the past year is that the EU has decided to escalate the conflict with Warsaw over a number of issues such as controversial media and judiciary reforms. Just days after Independence Day, the EU Parliament passed a damning resolution, which said the Polish government must condemn the "xenophobic and fascist march" and "suspend large-scale logging" in the Bialowieza forest, a UNESCO World Heritage Site, among other things.
The EU is currently planning action to suspend Poland's voting rights at the Union's governing bodies as punishment for Warsaw's policies, including a reform of its judiciary and taking more control over the national media. Brussels sees those actions as breach of European values and a slide towards autocracy.
Warsaw and Brussels have been increasingly at odds with each other since 2015, when the conservative Law and Order party (PiS) came to power on a platform of euro-skepticism and traditional Catholic values. It became the first party since 1991 to successfully form a majority government in Poland. Incidentally, the first Independence Day march unmarred by violence happened weeks after the PiS landslide victory.
The ongoing conflict finds its reflection in how events in Poland are reported, said Oleg Nemenskiy, leading research fellow from the Russian Institute for Strategic Studies. "We could say there is a new trend in the Western media and political circles for an acute conflict with Poland, for damaging its image, for telling the European public that the Polish state is improper," he told RT.
It's not that the ability of mainstream media to juggle terms when describing nationalist groups is new. One fresh and vivid example is Poland's neighbor Ukraine, where the ties of right-wing radical groups to Nazi ideology was downplayed or simply ignored.
"There has been a complete media cover-up of the explicitly Nazi activity of the paramilitaries in Ukraine during the coup of 2013-14 against the elected government," said Elke Fimmen, vice chair of the German anti-globalist minor party Civil Rights Movement Solidarity. "British, US, EU officials and NGOs promoted that coup as being pro-democracy and pro-European values. But in fact intelligence agencies of these countries… were involved in encouraging and training of these groups for decades."
Not that the Western public knows it, but in today's Ukraine, right-wing militant groups may serve as gangs-for-hire for shady businessmen or be legalized as part of the nation's military and police forces. Some commanders have seats in the Ukrainian parliament and even its speaker, Andrey Parubiy, started his political career by co-founding the Nazi-themed Svoboda party. Polish nationalists may not be happy that Kiev treats people responsible for slaughtering Poles in the 1940s as national heroes, but, hey, they can overcome their differences by blaming Russia for whatever minor incident upsets Polish-Ukrainian friendship, right?
Alexandre Antonov, RT
@alantonov