Polish nationalists attack Russian embassy during Independence Day march
Police had to use rubber bullets and pepper spray to disperse a crowd of violent Polish nationalist demonstrators during an Independence Day march in Warsaw. Besieged Russian embassy officials say the building was pelted with firecrackers and bottles.
Officers in riot gear formed a cordon around the building, as young shaven-headed demonstrators waving red-and-white flags tried to push through. The crowd shouted slogans directed against Russia, Poland's eastern neighbor, which the demonstrators blamed for World War II atrocities and occupation during the Soviet era.
Poland's foreign ministry has criticized the action, saying "there is no justification for hooliganism."

Several men managed to burst through the police cordon. They attempted to clamber up on the embassy's walls and tried to set the guard-post on fire.

In total, more than a dozen marchers were arrested across the Polish capital, and at least two policemen and many others were taken to hospital with injuries.

Several thousand marchers chanted "God, honor, fatherland!" as the group initially proceeded without a hitch through the central streets of the city.

After about an hour, a group of well-prepared radicals pulled on balaclavas, broke away from the main crowd and attacked a left-wing squat. The nationalists then moved onto Zbawiciela Square, considered Warsaw's gay and bohemian district, setting fire to a symbolic rainbow-colored flower display.

As police stepped in and wrestled back control, the radicals set fire to several cars before attempting to escape through side streets.

The annual procession marking Independence Day is consistently marred by displays of violence against foreign, left-wing and atheist targets.

This year, police attempted to stand back to avoid provoking violence. The nationalists' own orange vest-clad volunteers were left to control the crowd as police helicopters circled above.

Poland's official government website describes November 11 as "the most important national holiday", celebrated following the declaration of independence in 1918, "after 123 years of captivity… under the rule of Austria, Prussia and Russia". The holiday was suppressed during the Communist era, but has made a strong comeback since the fall of the Iron Curtain.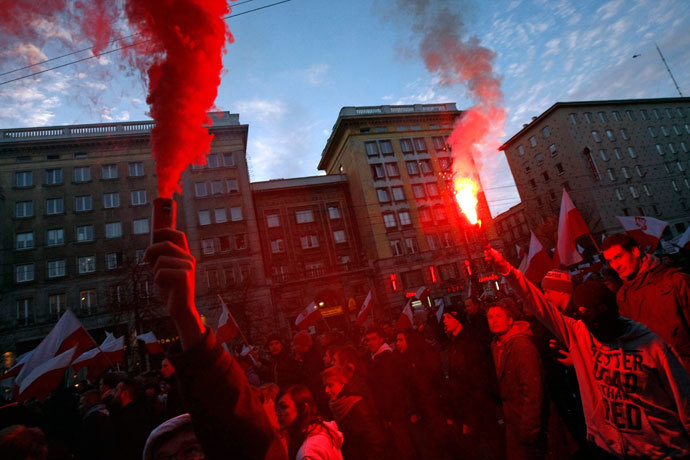 You can share this story on social media: