Nationalists, rival groups march through Warsaw on Polish Independence Day (PHOTOS, VIDEO)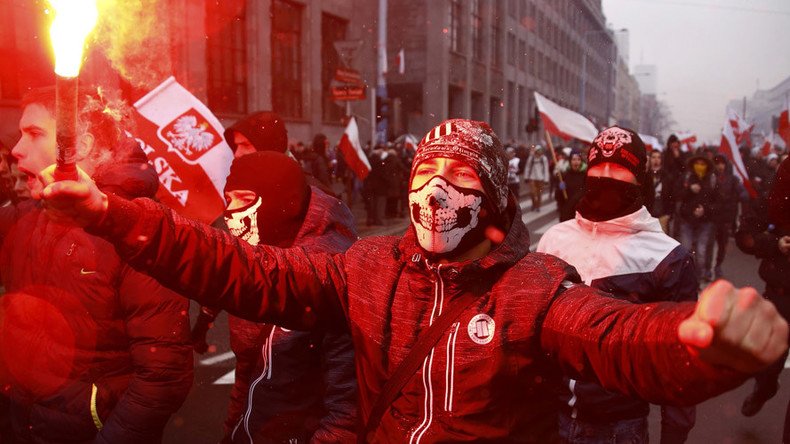 Tens of thousands of people have taken to the streets of Warsaw on the country's Independence Day, with military ceremonies taking place alongside anti-democracy activists and far-right nationalists.
While some of Friday's events were sanctioned by the government, including Polish President Andrzej Duda leading ceremonies in front of the Tomb of the Unknown Soldier, others were fueled more by political motives than remembrance or tradition.
Rival marches took place in Warsaw, including an Independence March organized by Polish nationalists under the slogan 'Poland the Bastion of Europe,' Radio Poland reported. Around 50,000 people were estimated to attend the march.
Ruptly footage showed nationalists waving Polish flags through wet streets, with many waving flares. Some carried banners depicting a falanga – a far-right symbol from the 1930s depicting a stylized hand with a sword.
Other banners read "God, Honor, Fatherland" and "Death to the enemies of the fatherland," and "To be a Pole, to be Catholic is a privilege and honor."
Police sirens could be heard in the background as they marched through the streets.
The nationalist march has often ended with violence and clashes with police in recent years.
Meanwhile, a march organized by the Committee for the Defense of Democracy, an organization created last year to fight the centralization of power by Poland's right-wing government, took place on a different route. The committee has held a string of anti-government protests over the past year.
A third march was organized by the Anti-Fascist Coalition, and included members of the left-wing Razem (Together) party.
Duda called for harmony ahead of Independence Day, saying that "harmonious celebrations will be a sign that we as a nation can rise above unnecessary divides and disputes."
Around 7,000 officers were deployed in Warsaw on Friday.
Celebrated on November 11 each year, Poland's Independence Day marks the regaining of the country's independence in 1918, after 123 years of partition by the Russian Empire, the Kingdom of Prussia, and the Habsburg Empire.