Over 270 arrests as Warsaw nationalist march ends in clashes, flares, water cannon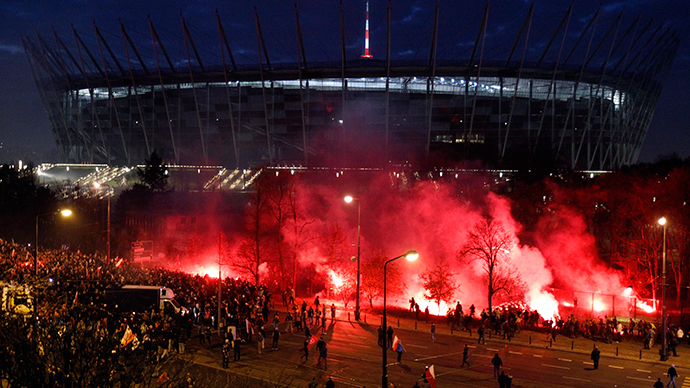 At least 276 people were arrested and just under 50 injured after clashes broke out in Warsaw. Polish nationalists took to the streets to mark the nation's National Independence Day, throwing flares and stones at officers, who responded with water cannon.
Tens of thousands marched through the Polish capital Tuesday with many carrying the national flag, while flares and firecrackers were also let off. The march was attended by extremist nationalist groups, such as the Radical Camp and the All-Polish Youth.

Marches through the city's capital have taken place every year since 2008 and have often led to clashes between rival political organizations.
For the fourth consecutive year the procession turned violent, with a group breaking away as they crossed a bridge over the Vistula river and reached the eastern bank, near the Polish national football stadium.
Video: #Poland's Independence Day and "happy" celebrations in Warsaw. Unrest turns into riots http://t.co/fqfi93NZfepic.twitter.com/7vxCXjNc1f

— Anna Zamejc (@stell7) November 11, 2014
According to Reuters, they tore up paving slabs and benches from a nearby bus station and started to throw them at police, who were dressed in riot gear.
Law enforcement officers responded by approaching the rioters and using a water cannon truck to push the marches back onto the bridge in the direction they had come. Some outlets report rubber bullets and tear gas was deployed.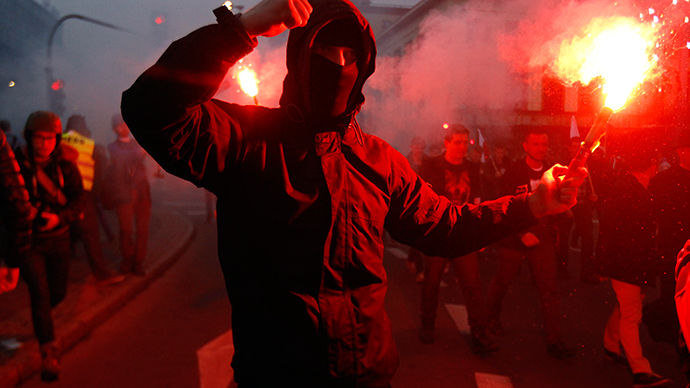 Up to 23 police officers and 24 protesters were wounded in the clashes, while at least 276 people were detained, according to TASS.
Though the provocateurs were eventually separated from the march by a police cordon, clashes still go on. Ruptly showed from the scene that police, armed with shields, again had to resort to water cannons to stop the crowd. The people at the stadium were waving flags and throwing flares.
Nationalists march on Independence Day in #Warsaw, #Polandhttp://t.co/yt1RwTY20R@RT_compic.twitter.com/V7Bm7GTbrg

— Sputnik (@SputnikInt) November 11, 2014
In November 2013, police had to use rubber bullets and pepper spray to disperse a crowd of violent Polish nationalist demonstrators during an Independence Day march in Warsaw, who pelted the Russian embassy with firecrackers and bottles.
Thousands of Polish nationalists march in Warsaw to mark Poland's National Independence Day. Riot police ready -> pic.twitter.com/giRHg4SnIw

— Emmanuelle (@_esaliba) November 11, 2014
Officers in riot gear formed a cordon around the building, as young shaven-headed demonstrators waving red-and-white flags tried to push through. The crowd shouted slogans directed against Russia, Poland's eastern neighbor, which the demonstrators blamed for World War II atrocities and occupation during the Soviet era.
Poland's foreign ministry criticized the action, saying "there is no justification for hooliganism."
National Independence Day has been celebrated since November 11, 1918, when the country gained independence after being partitioned between Russia, Prussia and the Habsburg Empire.