Russia demands apology from Poland over embassy attack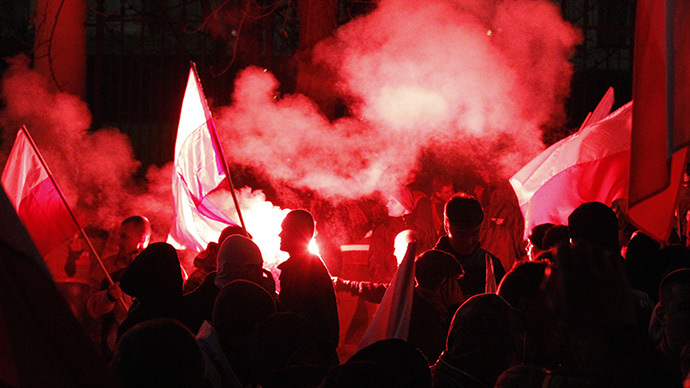 Russia has summoned Poland's ambassador to issue a note of protest over Monday's nationalist attack on the embassy in Warsaw. It accused Polish police of failing to protect the diplomats from "rampaging brutes."
The Russian Foreign Ministry demanded apologies from Poland over the attack, which happened on Monday during a so-called 'independence march'. The nationalist march escalated into an attack by radical demonstrators on Russia's embassy. 

The ministry called the incident a gross violation of the Vienna Convention on Diplomatic Relations, which demands that the host country ensure the safety of diplomatic staff of a foreign embassy. 
Russia noted the "the passive and late response of the police, which played a major part in allowing the rampage of the unruly brutes," the ministry said in a statement.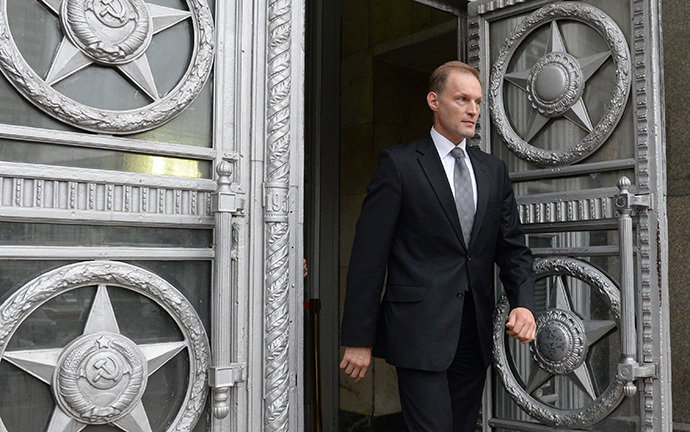 The attack "caused damage to the embassy and effectively blocked its normal functioning for several hours," the statement said. 
The outraged response comes a day after the evening attack, in which a crowd of Polish nationalist pelted the Russian embassy with flares, bottles and other projectiles.
Polish police are currently investigating the riot and the security force's response to it.
"There were incidents that need investigation. An analysis is underway to ascertain how adequate the police response to the events of the march was. If it turns out that somebody failed to perform his duty fully or was slow to intervene, appropriate disciplinary action will be taken," Polish Interior Minister Bartlomiej Sienkiewicz told a local radio station on Tuesday.
Police also ramped up security in the vicinity of the embassy to prevent a possible second attack.

The embassy attack left the entrance gate and three cars seriously damaged, the embassy's press service reported on Tuesday. A guard booth next to the fence was completely burned down. The entire territory was littered with burned-out fires, glass shards and other junk. Most of the embassy staff members were absent at the time of the attack, having left the territory before the evening marches started.
Monday's violence in Warsaw came during the celebration of Independence Day in Poland. It commemorates the creation of an independent Polish state in 1918 after the Bolshevik revolution in Russia.
Throughout the country, some 66 thousand people took part in celebratory demonstrations. Several rallies turned violent as radicals clashed with police forces. At least 19 people, including 12 police officers were injured in the scuffles. As many as 72 rioters have been arrested.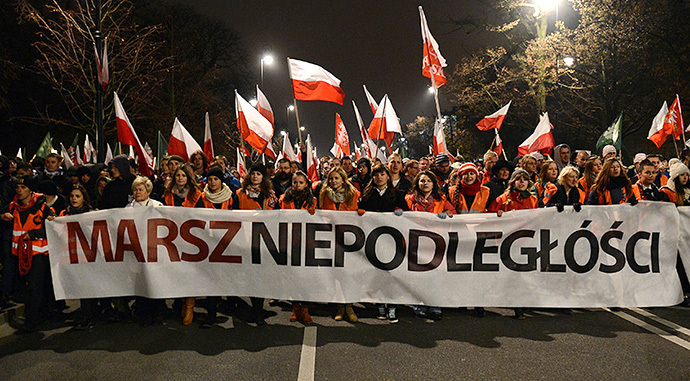 Poland and Russia share a turbulent and often hostile history. Poland, a strong adversary of the Russian Empire in past centuries, was weakened and eventually partitioned by Russia, Prussia and Austria in the 18th century.
The independent Poland of the first half of the 20th century fell in 1939, when Nazi Germany and the Soviet Union both send their troops to take the country over. Following World War II, Poland remained under Moscow's control as part of the Eastern Block up until the collapse of the Soviet Union.
Many nationalist Poles see Russia as a threatening force seeking to subjugate it again.