US defense bill targets Moscow-linked TV content amid crackdown on Russian media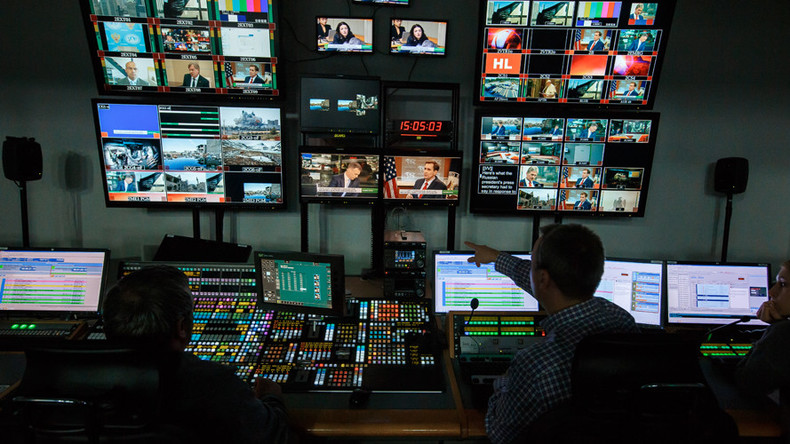 Moscow has vowed to impose tit-for-tat restrictions on US media if a defense bill currently being considered by Washington is adopted. As part of the bill, US lawmakers have been pushing to impede the work of TV networks allegedly linked to Kremlin.
On Wednesday, House and Senate lawmakers agreed on the National Defense Authorization Act (NDAA) for the Fiscal Year 2018, which includes a whole chapter titled "Countering Russian Aggression." The bill was earlier proposed by Senator Lindsey Graham (R-South Carolina) and submitted by Senator John McCain (R-Arizona).
In response to what the bill calls Russia's "ongoing aggressive actions," the NDAA proposes to limit Moscow's alleged interference in US and world affairs. That includes spending some $4.6 billion on countering the Russian "threat" in Europe, and $350 million on security aid for Ukraine, including "defensive lethal assistance."
Read more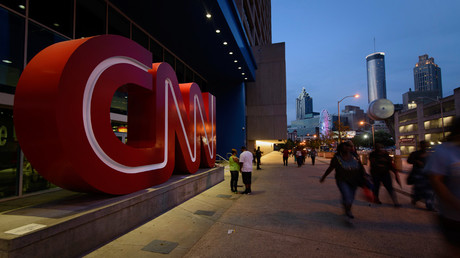 A particularly controversial aspect of the bill is that, if the NDAA is signed into law, American cable and satellite networks would be able to lawfully refuse to provide services to RT, as well as any other channels allegedly linked to the Russian government.

"A multichannel video programming distributor (MVPD), such as cable and satellite television providers, may not be required to carry video content from television stations to the extent that such content is owned, controlled, or financed by the Government of the Russian Federation," the draft legislation states.
Currently, the networks must comply with US federal law, and cannot drop a channel without facing legal consequences except in circumstances where obscene content was shown.
The bill was slammed by Russian lawmakers, with the head of the State Duma's International Affairs Committee Leonid Slutsky calling the move a "witch hunt" and saying that it makes Russia think about adequate retaliatory measures.
"It is another manifestation of double standards and violation of freedom of speech, which has nothing to do with defending democratic values," Slutsky said on Thursday. The senator added that US lawmakers are apparently afraid that Americans are able to get access to a point of view "different from the one that is imposed by American mainstream media."
READ MORE: Facebook, Google could help US 'retaliate' against Russia, other nations – Senator McConnell (VIDEO)
At the same time, Head of the Russian Upper House Commission for Information Policy Senator Aleksey Pushkov called for discussions on possible restrictions on US media operating in Russia, and questioned "why the 'Voice of America,' any US media must be allowed to reach Russian customers."
Meanwhile, Moscow has vowed to retaliate against Washington's actions to restrict Russian media, with Russia's Foreign Ministry spokesperson Maria Zakharova telling reporters on Thursday that "in all cases, related to pressure and persecution of the Russian media in the US, [Russia] will take appropriate measures."
Read more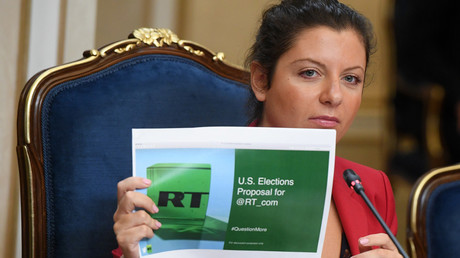 Zakharova added that if Washington halts the work of Russian TV channels, including RT, or makes their work "virtually impossible," Russia will use "the relevant articles of the law on mass media."
The bill is the latest ratcheting up of Washington's pressure on Russian media. Last week, top House Intelligence Committee Democrat Adam Schiff questioned whether RT should be allowed to advertise on social media such as Twitter and Facebook. The statement was preceded by hearings at the Senate Intelligence Committee, where the tech giants were grilled over alleged Russian meddling in the 2016 US election.
In late October, just days before the hearings, Twitter banned ads from RT and Sputnik on its platform, citing the aforesaid alleged meddling. However, the social media platform itself offered RT a costly election ad-buy, as the ban drove the channel to reveal.
In September, the US Department of Justice demanded that a contractor supplying various services for RT America register as a foreign agent, under the Foreign Agents Registration Act (FARA), or face consequences that could effectively stop work at their US offices. The legislation in question was adopted in the late 1930s to counter pro-Nazi propaganda and inform American citizens "of the source of information (propaganda) and the identity of persons attempting to influence US public opinion, policy, and laws."
Russian President Vladimir Putin has warned against restrictions on Russian media in the past, saying that Moscow "will act only symmetrically and quite swiftly."