Spain's constitutional court cancels Catalonia declaration of independence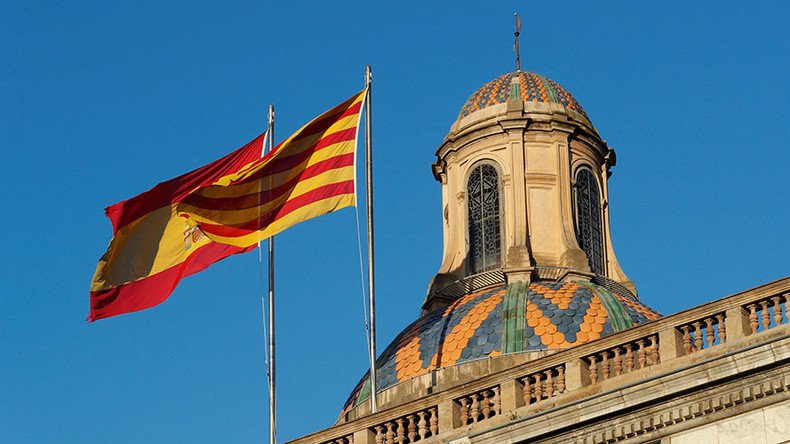 Spain's Constitutional Court has overturned Catalonia's declaration of independence, announced by the region's government on Friday, the court spokeswoman said.
READ MORE: Catalonia's Puigdemont vows to respect December 21 election in Brussels speech
The news came as deposed Catalan President Carles Puigdemont was giving a speech in Brussels, his first since Madrid filed charges against him and he fled to Belgium. Earlier the Spanish attorney general filed a lawsuit against the secessionist leaders over their push for independence.
Speaking to journalists in advance of his speech, Puigdemont said: "I'm not here to ask for political asylum."
The former leader said that he and his government were denouncing "the polarization of the Spanish justice system" and wanted to "show the world the serious democratic deficit that exists in the Spanish state."
Minutes after the Constitutional Court decision, Spain's Supreme Court called on the Catalonian parliament speaker and five senior lawmakers to testify on November 2-3.
The Catalan parliament declared independence from Spain following a secret vote on October 27, which was boycotted by MPs supporting the union with Spain. In response, the Spanish Senate triggered Article 155, also known as the constitution's 'nuclear option,' stripping the Catalan government of power. New elections will be held in the region on December 21, Prime Minister Mariano Rajoy said. Puigdemont slammed Madrid for its "premediated aggression" and called for peaceful "democratic opposition."
On Monday, Spain's Foreign Minister Alfonso Dastis said the political standoff between Madrid and Barcelona will not result in an independent Catalonia. Madrid could, however, expand the region's autonomy, he said.
READ MORE: From first bids to 'long-desired step': Quick guide to Catalan independence crisis
Catalonia's landmark referendum held October 1 saw the region overwhelmingly (over 90 percent) voting to break away from Spain. Fewer than 50 percent of those eligible to vote took part, with pro-independence supporters blaming Madrid's crackdown, including blocking of polling stations and confiscation of votes, for the turnout.
Madrid called the vote illegal, and deployed thousands of extra officers from the National Police and Civil Guard ahead of referendum day. The Catalan health service later claimed that over 900 people in Barcelona and elsewhere in the region were injured, some of them seriously.
You can share this story on social media: