From first bids to 'long-desired step': Quick guide to Catalan independence crisis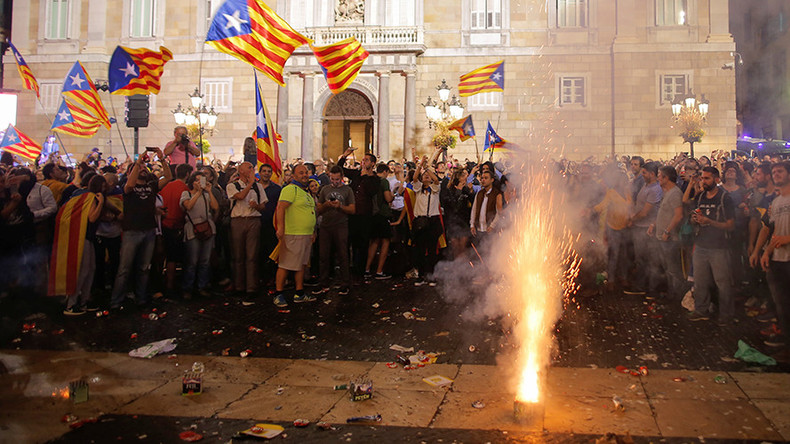 Tensions between Madrid and Barcelona are far from dying down after Friday's independence announcement by Catalonia and Madrid's sacking of the breakaway region's government. RT looks at the stand-off and what may come next.
Long road
Throughout its history, Catalonia has declared independence several times, starting from the 17th century. However, all Catalan Republics were quickly disestablished within just days or months. After the latest attempt in 1934, the region had to settle for autonomy and wait almost 80 years for the next push. An informal referendum on Catalonia's independence was held in 2014 and was aimed to gauge support on the region's political future. Around 80 percent voted to break away, yet the referendum was ruled unconstitutional by Madrid. Three years passed and region decided to give it another try, which has resulted in the declaration of independence.
Why again?
Apart from cultural (the region has its own language, Catalan) and eventually political reasons, the economy is considered as one of the key points for Catalonians seeking out of Spain. In 2016, a year ahead of the vote, the local government released a report saying that the prosperous region, with 7.5 million people, accounted for roughly 19 percent of Spain's GDP. Catalan's GDP is in fact similar to Finland's, it stated. Pro-independence supporters said they wanted "all the money and all the taxes that flow to the Spanish government" to stay in Catalonia. In September, Puigdemont even presented the Catalan Tax Agency, which was called a "fundamental state structure."
October 1st referendum & Spanish crackdown
A landmark October 1 referendum saw the region overwhelmingly (over 90 percent) voting to break away from Spain. Less than 50 percent of those eligible to vote took part, with pro-independence supporters blaming Madrid's crackdown, including blocking of polling stations and confiscation of votes.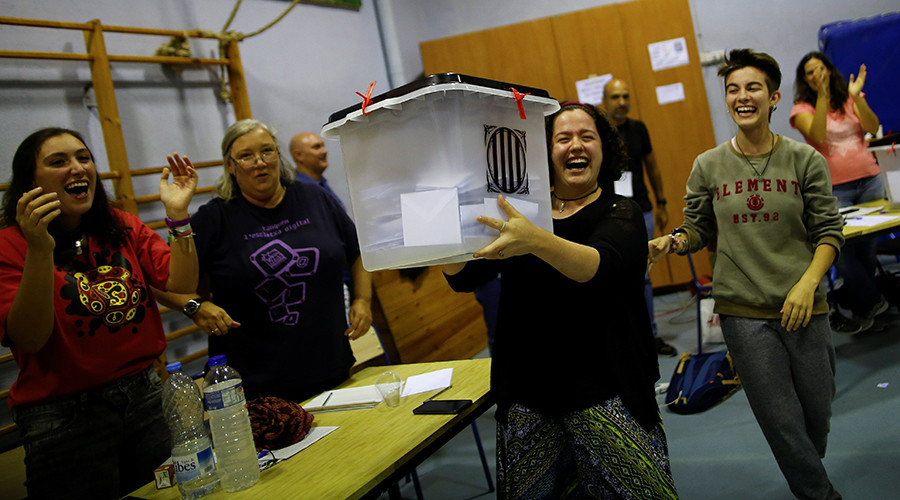 It threw sand in the wheels before, during, and after the referendum. Just days ahead of the vote, Spanish authorities arrested key Catalan politicians and searched Catalonian government premises. However, the real crackdown came on the day of the referendum. Madrid, which called the vote illegal, deployed thousands of extra officers from the National Police and Civil Guard, preventing many from having their say. Catalan authorities later claimed that over 900 people in Barcelona and elsewhere in the region have been injured, with some seriously.
READ MORE: 'I had my fingers broken': Catalan woman speaks out on Spanish police violence
The Spanish foreign minister countered that police used only "limited force" and even alleged that some of the disturbing images of the violence were "fake." Human Rights Watch, however, slammed the tough response, saying that they used "excessive force towards peaceful Catalans."
Spain invokes 'nuclear option' after Catalonia declares independence
On October 10, just days days after the historic vote, Catalan regional leader Carles Puigdemont signed a 'declaration of independence.' The document was, however, immediately suspended by Puigdemont to "give time" for negotiations with Madrid, which again said it did not recognize the decision. After almost a month of political chaos and uncertainty, the Catalan parliament declared independence from Spain following a secret vote on October 27, which was boycotted by MPs supporting union with Spain.
In response, the Spanish Senate approved Article 155 to be invoked, also known as the constitution's 'nuclear option,' stripping the Catalan government and its leader of power and taking over control. Prime Minister Mariano Rajoy declared that new elections will be held in the region on December 21. Puigdemont slammed Madrid for its "premediated aggression" and called for peaceful "democratic opposition."Catalonia has repeatedly accused Madrid of acting like the government of Francisco Franco, which from 1939 until 1975 suppressed Catalonia's autonomy.
'Nothing changes': How the world reacted
Following the October 1st referendum, the EU, US, and a number of other countries refused to recognize its results, at the same time saying the issue is solely a Spanish "internal" matter. They urged, however, for a peaceful resolution to the stand-off. The Council of Europe's Parliamentary Assembly (PACE) also condemned Spanish police violence during the referendum.
After the Catalan regional parliament declared independence, the EU and other states reiterated that Barcelona will not have their support on independence. "For EU nothing changes. Spain remains our only interlocutor," European Council President Donald Tusk tweeted, again calling for peaceful dialogue. Washington weighed in by saying that "Catalonia is an integral part of Spain" and that the US "supports the Spanish government's constitutional measures to keep Spain strong and united."
What's next for Barcelona & Madrid?
With neither side seeming prepared to back down, speculation on the future of the region continues. Catalonia is no longer autonomous, as the region "decided not to be inside of Spain," Enric Folch, Secretary of the International section of the Catalan Solidarity for Independence movement, told RT. "The only one thing they [Madrid] could do is to act by force, not by law as they've been acting before," he added.
Marco Bassani, professor of politics at the University of Milan, said that the move could actually cause a domino effect. "If Catalonia and Spain break apart, then a lot of things will happen. That will have definitely a domino effect with Veneto, Scotland and all sorts of other regions. There might be easily 35 to 45 new countries coming up," he said.