Spanish police used excessive force in Catalonia during referendum – HRW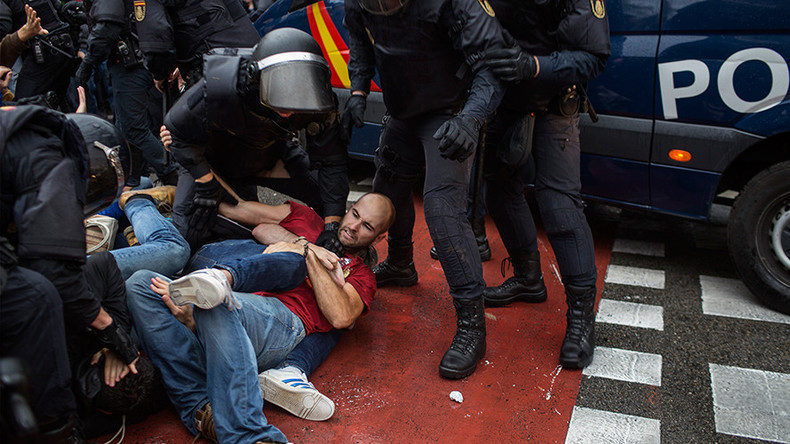 Human Rights Watch says Spanish national police used "excessive force towards peaceful Catalans expressing their political opinion." The group shared accounts of witnesses, including a 70-year-old woman, who said they were dragged, pushed and beaten during rallies.
"Spanish police engaged in excessive force when confronting demonstrators in Catalonia during a disputed referendum, using batons to hit non-threatening protesters and causing multiple injuries," a report by Human Rights Watch released on Thursday says.
The human rights NGO analyzed photos and videos released by media and uploaded on social networks from the day of the referendum, October 1.
The content appears to show examples of "disproportionate use of force" against peaceful demonstrators "expressing their political opinion," HRW says.
"The police may well have had the law on their side to enforce a court order but it didn't give them the right to use violence against peaceful protesters," according to Kartik Raj, Western Europe researcher at HRW.
The group said it spoke to witnesses in Girona, a city in north-western Catalonia, as well as two villages in Girona and Barcelona provinces.
"They grabbed me by the wrists, lifted me and pushed me, and then they threw me into the yard in front of the church, and I landed on the poor woman who was already there. Then I got pushed down the stairs and felt the kicks and punches coming in. Everything hurts," Jordi Puig de Llivol, a 31-year-old auto service technician from the village of Fonollosa, recalled.
"Two civil guards grabbed me, dragged me away and pushed me to the floor. And then I felt a body land on me…. Luckily I only broke my wrist! … I felt so helpless," Magdalena Clarena, 70, who is also from Fonollosa, said.
Georgina Vinyals, 34, from Girona, said she was standing behind the front line of protestors outside a local school, when police started hitting them.
"I was hurt then. My neck is now in a collar and I hurt my elbow."
When Spanish national police attempted to shut down a polling station in Aiguaviva village, Jaume Mas, a 52-year-old technical engineer, started speaking Spanish to them.
"I repeated three times, in Spanish, to be sure it was in a language they understood… They answered us with batons and pepper spray. Not even one word from them," he said.
At least 893 people reported injuries, according to Catalonia's Health Department.
Madrid insists that the actions of Civil Guard and National Police were "prudent, appropriate and proportionate to the objective of ensuring compliance with the law and the rights of all citizens."
HRW said that Spain is party to the European Convention on Human Rights and the International Covenant on Civil and Political Rights, and thus has obligations linked with the right to peaceful assembly, freedom of expression, and use of force by law enforcement.
On Tuesday, Catalan leaders signed what they called "a declaration of independence," suspending it temporarily to facilitate dialogue with Madrid.
On Wednesday, Spanish Prime Minister Mariano Rajoy gave the Catalan authorities eight days to confirm whether they had declared independence. Formal confirmation from Barcelona is required to invoke Article 155 of the Spanish constitution, which allows Madrid to strip Catalonia of its broad autonomy.