'I had my fingers broken': Catalan woman speaks out on Spanish police violence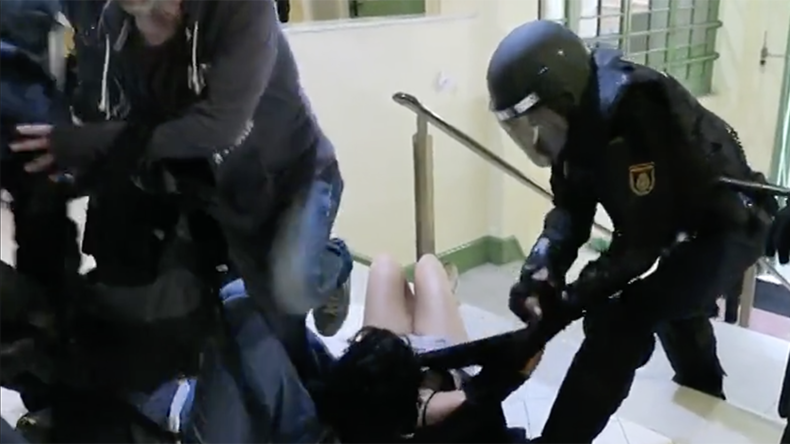 Following the tough approach by Spanish National Police against voters in the Catalonian referendum, one woman shared her first-hand experience of facing rough treatment from law enforcement officers.
The Sunday vote on breaking away from Spain saw dramatic scenes in Catalonia, when Spanish law enforcement agents launched a ferocious crackdown on those coming to cast their ballots, with rubber bullets and batons used against the citizens.
READ MORE: Catalonia: Shocking videos capture police violence against voters as hundreds injured in crackdown
One piece of footage shows Marta Torrejillas, who came to vote at the Pau Claris Institute in Barcelona, being forcibly dragged along the floor by one of the officers.
Other voters rushed forward to help Marta, who fell on the floor and resisted as the officer pulled her towards the stairs. Marta can be heard screaming as she rolls downstairs, with the policemen clasping her two hands. The officers eventually take her down to the entrance.
"I was thrown down the stairs, I was kicked. I had my fingers broken one by one. In the middle of stairways with my clothes lifted, the officers touched my breasts, laughing," La Vanguardia quoted Marta as saying in a subsequent video, with her hand bandaged.
READ MORE: 'Violence can never be an instrument in politics:' EU belatedly reacts to Catalonia crackdown
More than 890 people received medical treatment after sustaining injuries in the standoff with Spanish police forces, according to the Catalan health service. However, the federal government justified the actions of the police, saying they "complied with the orders of justice" and "acted with professionalism and in a proportionate way."
You can share this story on social media: