Catalonia's Puigdemont vows to respect December 21 election in Brussels speech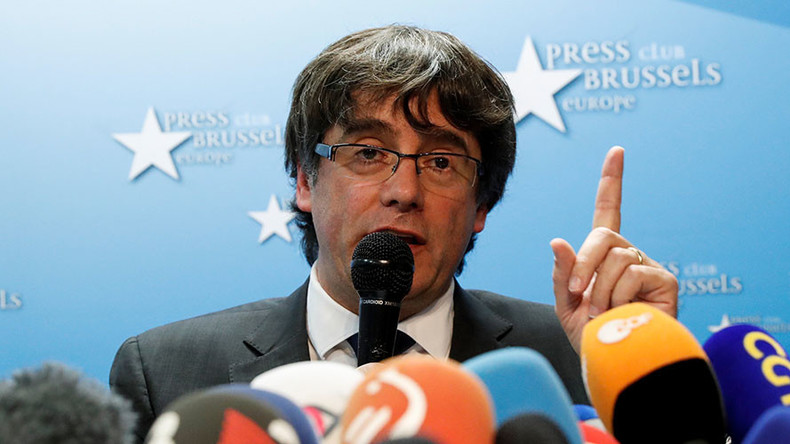 Catalan leader Carles Puigdemont says he will respect the results of the snap election called by Madrid in response to the declaration of independence by the province's parliament. He then called on the Spanish PM Mariano Rajoy to say whether he would do the same.
Speaking in Brussels on Tuesday, Puigdemont reiterated his support for democracy and peaceful resistance to Madrid's pressure on Catalonia. He said he arrived in the Belgian capital to put the issue of Catalan independence "in the heart" of the European Union.
Puigdemont said he and his government, which has been sacked by the central government in Madrid, were denouncing "the polarization of the Spanish justice system" in dealing with the political crisis and wanted to "show the world the serious democratic deficit that exists in the Spanish state."
He said the province's deposed leadership would submit to Madrid's order to hold an emergency parliamentary election on December 21, and respect its result.
"I would like to ask the Spanish government a question: Will it do the same?" he asked. "I want a clear commitment from the State, will you respect the results or not?"
When asked whether he will be seeking political asylum in Belgium, Puigdemont said he did not go to Brussels for that reason. Puigdemont is facing criminal charges for disobeying the Spanish government in pursuit of Catalan independence, including for appropriation of budget funds to hold a referendum on the issue.
Puigdemont said he and his government left Barcelona to avoid possible violence, should the Spanish government try to arrest them. He added that he would return to Catalonia, if given "guarantees" of safety. Puigdemont dismissed as groundless Madrid's accusations of sedition, and denied that his intention in coming to Belgium was to avoid justice.
The Catalan leader and his cabinet ministers left the Spanish province, on Monday just as Spanish Attorney General Jose Manuel Maza filed lawsuits against them.
You can share this story on social media: