Aussie cop throws schoolgirl to the ground in dramatic footage (VIDEO)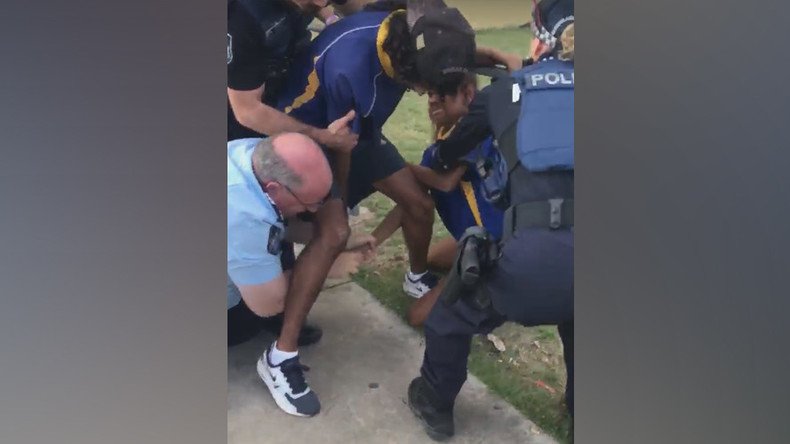 A Queensland police officer is under investigation after shocking footage emerged of him grabbing a schoolgirl and throwing her to the ground, seemingly unprovoked.
Police were reportedly called to the small Australian town of Murgon, 270km north-west of Brisbane, to reports of people causing a disturbance on the street.
READ MORE: Minneapolis police chief resigns amid fallout of fatal shooting of Australian woman
The controversial video begins with an officer, reportedly Sergeant Gregory Kapernick, in a tense shouting match with the residents. "You're causing a disturbance on the street," the officer can be heard saying, "I want you all to leave, move on," he yells.
As tension escalates the irate officer loses control when one resident curses at him. "Stop swearing!," Kapernick yells before grabbing the woman, pulling her onto the road and starting a tug-of-war with residents as they try to wrestle the woman from his grip.
The sergeant eventually gives in, lets the woman free and sees a girl is holding his keys that he dropped during the scuffle. Kapernick lunges at the girl, who appears to run in fear, and drags both of them to the ground as he pries the keys from her hand.
"The officer dropped his keys and the girl picked them up and stood there holding her hand out for him to grab them but chose to throw himself at her instead hence why she ran," wrote the video's uploader Tayla Hillier.
READ MORE: Koala rides 16km trapped behind wheel until driver hears it cry (PHOTOS)
Hillier wrote that after the incident, the crowd dispersed and Kapernick started following the residents, creating a "scene" and telling them he had just returned to work from sick leave. Afterward he sat in his car and "sobbed to himself while the other officers were professional and handled the situation," wrote Hillier.
So far, the video has been shared more than 4,000 times on Facebook and notched up over 430,000 views.
Queensland Police said the incident is now under investigation by the Ethical Standards Command, reports 9News.