US staging 'fatal provocations' against Russian forces in Syria – Lavrov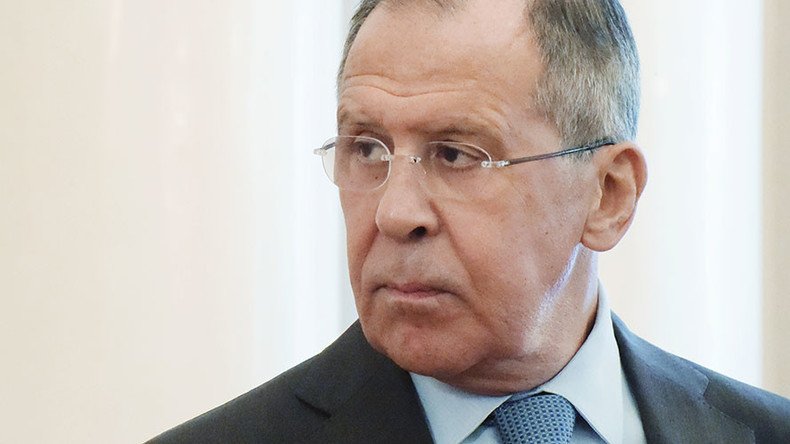 Washington is playing a dangerous game of encouraging terrorists in Syria to attack government forces and the Russian military, Russian Foreign Minister Sergey Lavrov has said. Moscow won't leave aggressive US steps unanswered, but wants to overcome the political deadlock, he added.
In an interview with the London-based, Arabic-language Asharq Al-Awsat newspaper, taken ahead of the visit of Saudi King Salman bin Abdulaziz Al Saud to Moscow, Lavrov noted that the US-led coalition and the Syrian rebel forces they support consistently act in a way that helps Islamic State (IS, formerly ISIS/ISIL) and other terrorist groups.
"In some cases, these forces mount allegedly accidental strikes against the Syrian Armed Forces, after which Islamic State [banned in Russia] counterattacks. In other cases, they inspire other terrorists to attack strategic locations over which official Damascus has restored its legitimate authority, or to stage fatal provocations against our military personnel," Lavrov said.
Washington is guided by "double standards" in Syria, the Russian foreign minister said, slamming the US for failing to acknowledge that there are no such things as bad or good terrorists.
"If you apply double standards, divide terrorists into 'bad' and 'very bad,' force others to enter the coalition on political motives, forgetting about the necessary UN sanction to approve these actions, then it's hard to speak about the effectiveness of an anti-terror campaign," he said.
Russia's involvement in the campaign against ISIS in Syria aids not only Russia's national security, but also regional stability, Lavrov said. He added that it is not enough to defeat terrorists on the ground to bring peace to embattled regions, noting the importance of diplomatic efforts.
READ MORE: 2 years of Russia in Syria: ISIS shrinking, Iran & Turkey linking, conflict risk with US lurking
"It's impossible to eradicate terrorism in the Middle East and North Africa through military means only. We are deeply convinced about that. The advantage of our policy lies in that it is not self-interested and does not have a hidden agenda," he said.
Moscow will continue to engage in the process of conflict resolution in these regions through peaceful political and diplomatic efforts, and it "invites everyone interested to participate in this joint and honest work," Russia's top diplomat said.
The major contribution to the defeat of IS in Syria has been made by the Syrian Armed Forces and the Russian Air Force, Lavrov noted.
With regard to Syria and Iraq, where government armed forces and allied militias are pushing to take the remaining jihadists' strongholds, the cooperation between Moscow, Ankara and Teheran is playing a decisive role in bringing back stability, Lavrov argued.
READ MORE: Russian op saved Syria from being overrun by ISIS – analysts to RT
"Our practical cooperation at all levels and inter-agency daily contacts illustrate that Turkey and Iran play, in the full sense of the word, the key role in terms of stabilizing the situation in Syria and Iraq," he told the publication.
He also hailed Saudi Arabia for its lead in forming a Syrian opposition delegation at the Geneva talks so that it "could become a fair merit partner of the delegation of the Government of the Syrian Arab Republic at the talks under the UN auspices in Geneva."
Speaking of the upcoming visit of Saudi King Salman Al Saud to Moscow, Lavrov expressed the hope that it would "bring our cooperation to a totally different level" and pave way for a more stable Middle East and North Africa region.
'Sanctions won't go unanswered'
Speaking about the chances of US-Russia relations improving, Lavrov said that anti-Russian hysteria in the US has become a huge obstacle on the road to normalizing relations. Reiterating that Moscow did not meddle in the US presidential elections, Lavrov argued that by making Russia a scapegoat, "someone in Washington doesn't' want to accept the result of the vote" while "shamelessly exploiting the Russian card in the power struggle."
While Moscow takes into account the complex inner political situation in the US, it will have to prepare a set of counter-measures of its own.
"We cannot let such aggressive US steps, as, for instance, "Countering America's Adversaries Through Sanctions Act" adopted in July, go unanswered. We hope that reason will prevail in Washington and a spiral of confrontation will be stopped. On our part, we are not aiming for it."
Lavrov stressed that it will takes political will on both sides to find a way out of an "artificially created deadlock" in US-Russia cooperation.
READ MORE: US 'completely & unlawfully seize' Russian SF consulate as blacksmith breaks lock (VIDEO)
With Russia-US relations currently at rock bottom, the potential for joint work in various areas is wasted, Lavrov lamented, adding that Moscow has consistently called on Washington to upgrade the cooperation in areas of mutual interest.
"The potential for Russian-American cooperation in international affairs is great, although in many respects it remains underdeveloped. We have long been urging our colleagues to establish real coordination in the area of counter-terrorism and in dealing with other dangerous challenges, i.e. the proliferation of weapons of mass destruction, drug trafficking and cybercrime," Lavrov said.
On Tuesday, Russian President Vladimir Putin also called for "constructive, predictable and mutually-beneficial cooperation" with Washington as he accepted the credentials of the newly appointed US ambassador to Russia, Jon Huntsman.
Huntsman, for his part, said he would strive to rebuild the trust eroded in recent years and work to strengthen cooperation.
You can share this story on social media: