Australia to fit 9 new warships with US-built anti-missile defense systems to counter 'rogue states'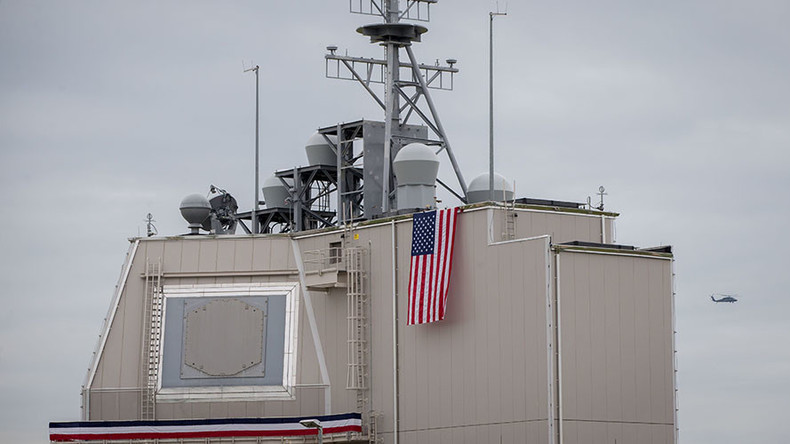 Australia's nine new war ships, set for construction in 2020, will be armed with American-built Aegis combat management systems, Prime Minister Malcolm Turnbull said, citing concerns about "rogue states developing missiles with advanced range and speed."
Turnbull said the new frigates will use Aegis combat systems, produced by Lockheed Martin, in conjunction with SAAB Australia technology.
"This decision will maximize the future frigate's air warfare capabilities, enabling these ships to engage threat missiles at long range, which is vital given rogue states are developing missiles with advanced range and speed," Turnbull said on Tuesday, in a joint statement with Defence Minister Marise Payne and Minister for the Defence Industry Christopher Pyne.
"The Future Frigates will be operating in a complex and growing threat environment. By bringing together the proven Aegis system, with a cutting edge Australian tactical interface developed by SAAB Australia, our Future Frigates will have the best capability to defeat future threats above and below the surface," the statement added.
The Aegis Ballistic Missile Defense System (ABMD) is aimed at providing defense from short to intermediate-range missiles. It consists of BMD-capable ships as well as a ground-based configuration.
Work on the frigates is set to begin in 2020, with three defense giants (BAE Systems, Navantia and Fincantieri) competing for the A$35 billion (US$27.39 billion) contract, according to Reuters. The winner of the frigate contract will be announced early next year.
Tensions in the Asia-Pacific Region were heightened when North Korea conducted its sixth and most powerful nuclear text on September 3. Pyongyang claimed to have carried out its first H-bomb test, hailing it as a "perfect success" and a "meaningful" step further into the development of the nuclear program. State media reported at the time that it allegedly could be mounted on an Intercontinental Ballistic Missile (ICBM), although this capability has been disputed outside North Korea.
"Recent events in our region have proven that Australia's future frigates must be equipped to defend Australia from the threat of medium- and long-range missile attacks," Turnbull said in a speech in Sydney on Tuesday.
It's hoped that the decision to equip the frigates with the Aegis system could help Australia kill two birds with one stone.
"The missile defense will protect Australia's forward based forces and in a coalition scenario," Euan Graham, director of the national security program at the Lowy Institute, an Australian think tank, told Reuters.
"The choice of the Aegis system allows Australia to plug into the US alliance. They will be able to share data from vessels and potentially aircraft," Graham added.
Andrew Davies, director of the defense and strategy program at the Australian Strategic Policy Institute, said that the Aegis system is "probably not much help at all for ICBMs," however.
According to Davies, the Americanf s conducted a number of trials against ICBMs and only hit one.
"All missile defense systems are best against shorter-range ¬systems in terms of ballistic missiles," he told the Australian newspaper.
"What the Aegis system was originally designed for was air defense — defending ships against aircraft and missiles other than ballistic missiles … (But) it's a very capable system and it's probably the best long-range air defense system in the world."
The decision to fit ships with Aegis combat systems brings Australia in line with US, Japanese and Korean vessels, paving the way for broader cooperation.
"For a middle power like Australia, the capabilities that this future fleet will provide are essential to enabling the navy to advance Australia's national interests," Vice-Admiral Tim Barrett, Australia's navy chief, told the Australian.