Putin, Macron: N. Korea threatening peace & safety, direct talks needed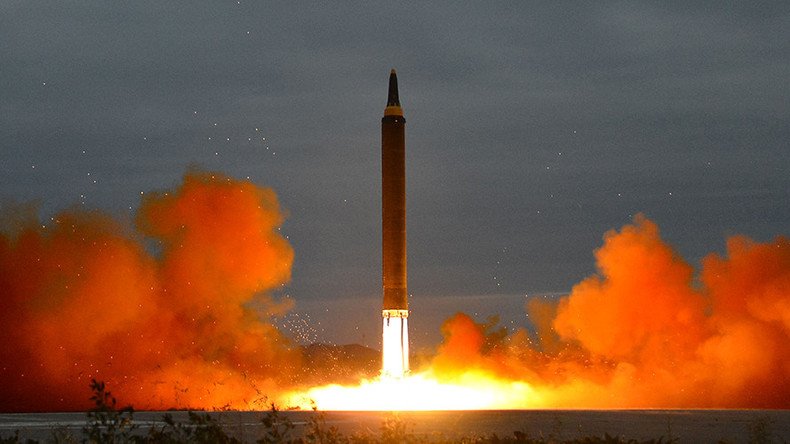 Russia's President Vladimir Putin and his French counterpart Emmanuel Macron have agreed on the importance of defusing the Korean peninsula stand-off through diplomacy, urging all parties to engage in direct talks.
The two leaders compared opinions on the Korean Peninsula crisis during telephone talks on Friday.
They are unanimous that further escalation on the Korean Peninsula cannot be allowed and that its consequences could be irremediable. They "agreed on the importance of untangling this extremely complicated issue solely through political and diplomatic means, through resuming direct talks," the Kremlin's press service said.
The two leaders condemned North Korea's "provocative actions," which blatantly violate the disarmament resolutions of the UN Security Council.
UN Security Council Resolution 2375, adopted on September 11, was an "adequate response of the international community to Pyongyang's reckless actions," both Putin and Macron stressed.
The Resolution tightened sanctions against North Korea following Pyongyang's sixth nuclear test, conducted earlier this month.
The new sanctions put a cap of 2 million barrels a year on sales of refined petroleum products to North Korea, crude oil export levels are capped at the average for the past 12 months, and the country's textile exports are banned.
North Korea, however, has responded to the sanctions with aggressive rhetoric and a new ballistic missile test. The projectile flew over Japan and crashed into the Pacific Ocean some 2,000 km east of the island of Hokkaido.
Following the new test, South Korea threatened to destroy the North "beyond recovery," if it continues its "provocations," according to President Moon Jae-in, who warned, however, of the new threats Pyongyang might pose.
"President Moon ordered officials to closely analyze and prepare for new possible North Korean threats like EMP [electro-magnetic pulse] and biochemical attacks," presidential spokesperson Park Su-hyun told reporters.
The new test has elicited a stern reaction from the international community. UN Secretary-General António Guterres condemned the test, promising to discuss it with the UN General Assembly next week.
"The Secretary-General calls on the DPRK leadership to cease further testing, comply with the relevant Security Council resolutions, and allow space to explore the resumption of sincere dialogue on denuclearisation," Guterres' spokesperson said in a statement on Friday.
UK Prime Minister Theresa May was "outraged" by the new test, but said pressure must be put on China so that in turn it pressures Pyongyang.
"The prime minister is outraged by North Korea's continued reckless provocation and she strongly condemns the regime's illegal tests," Reuters cited May's spokesman as saying.
Our key focus now is continuing to press China to keep up the pressure on North Korea to change course."
You can share this story on social media: