N. Korean IRBM put millions of Japanese into 'duck and cover' – Mattis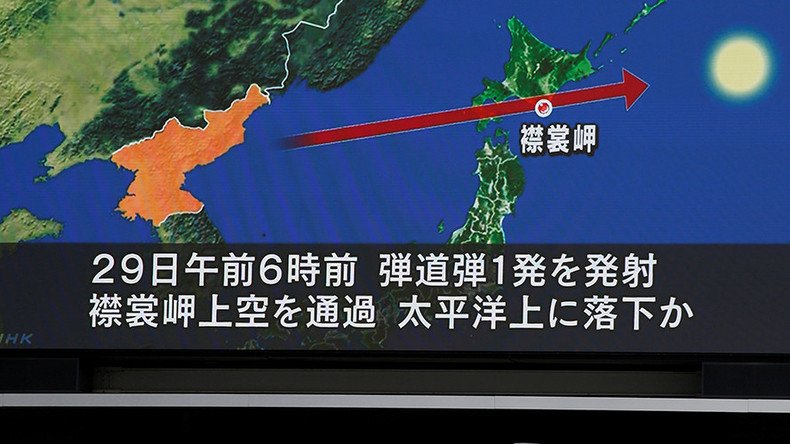 North Korea's intermediate range ballistic missile launch over Japan "put millions of Japanese into duck and cover" mode, said US Defense Secretary Jim Mattis. The launch triggered an alert in Japan as it flew through the country's airspace before landing in the Pacific Ocean.
Following the incident, top US officials coordinated fully and immediately made the necessary "calls," Mattis told reporters traveling with him during a visit to the US Strategic Command.
"We have just got done with the calls we always make to coordinate among ourselves. Steady as she goes," Mattis said as cited by Reuters.
As the projectile passed over Japanese airspace near Hokkaido at around 7.06am local time, the government's J Alert warning system, through TV, radio and loudspeakers, urged residents of Hokkaido and Tohoku to seek shelter.
The US military detected the launch of a single North Korean intermediate range ballistic missile (IRBM) from Sunan in Pyongyang at 11:57am Hawaii time (5:57 pm EDT / 9:57pm GMT), Reuters reported.
According to the US Pacific Command, the missile did not pose any threat to the US mainland or the US Pacific territory of Guam, spokesman Dave Benham said.
Japan and South Korea denounced Pyongyang's test launch as a provocative action that raises regional tensions and urged a firm response. The United Nations Security Council will reportedly meet Friday at the request of the United States and Japan to discuss the issue.
US Secretary of State Rex Tillerson said "these continued provocations only deepen North Korea's diplomatic and economic isolation." On Monday, the 15-member UNSC unanimously approved the 9th round of sanctions against Pyongyang, targeting its textile exports and oil imports.
"China and Russia must indicate their intolerance for these reckless missile launches by taking direct actions of their own," Tillerson said in a statement, despite Moscow and Beijing repeatedly and firmly denouncing Pyongyang's actions.
READ MORE: North Korea solution depends on 'containment of the US' – John Pilger
Both countries supported the UNSC resolutions on North Korea and even suggested their own way out of the crisis, seeing that sanctions are futile and cannot break the vicious cycle. Moscow and Beijing has proposed a so-called "double-freeze" initiative, which calls for Pyongyang to suspend its nuclear and ballistic missile tests in exchange for a halt to joint US-South Korea military drills. The idea, however, has been firmly rejected by the United States, which says it reserves right to conduct military drills with allies wherever they please.
Gregory Elich, an advisory board member of the North Korean Policy Institute, believes American threats against North Korea will only produce a counter reaction from Pyongyang.
"There has been a consistent pattern for the years that when North Korea is approached diplomatically, it responds diplomatically. When it is pushed and threatened it responds with firmness. The more the US pushes, the more North Koreans are going to push back," Elich pointed out.
Yet, and despite this, Elich believes the US will continue to pressure the communist regime.
"The Trump administration is already at war with North Korea, only doing so with non-military means. If you look at the latest sanctions, those are directly targeting the Korean economy in an attempt to impose a regime change."
"So the Trump administration is out to strangle North Korea and try to impose an economic collapse," the expert concluded.
You can share this story on social media: