Modernized Russian MiG29 fighter jet spotted in Syria for 1st time (VIDEO, PHOTO)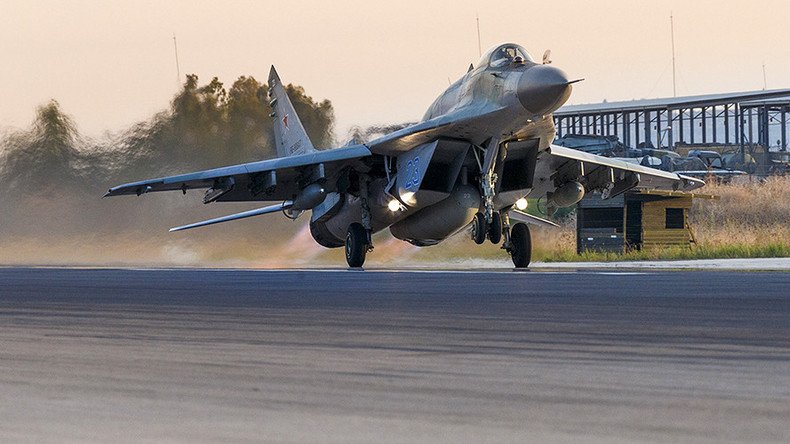 A new multirole modification of the veteran Russian fighter jet was caught on camera at the Khmeimim Airbase in Syria, taking part in the Russian anti-terrorism campaign.
The modern modification of the iconic MiG-29 fighter was spotted at the airbase in Syria on Tuesday, when reporters were allowed into the military facility amid an official visit by Russian Defense Minister Sergey Shoigu to the war-torn country.
READ MORE: 2 Russian submarines fire cruise missiles from Mediterranean, hitting ISIS targets in Syria
The planes of that type have not participated before in the ongoing Russian anti-terrorism campaign in Syria. The carrier modification, MiG-29K, however, briefly saw action when the aircraft carrier 'Admiral Kuznetsov' took part in operations against Islamic State (IS, formerly ISIS/ISIL).
The plane was captured on video while taking off from the airbase with a group of other Russian planes, while an Mi-28N ground-attack helicopter was patrolling the area around the base. The MiG-29 SMT apparently took part in airstrikes against IS, as it took off carrying two bombs, and returned without the payload.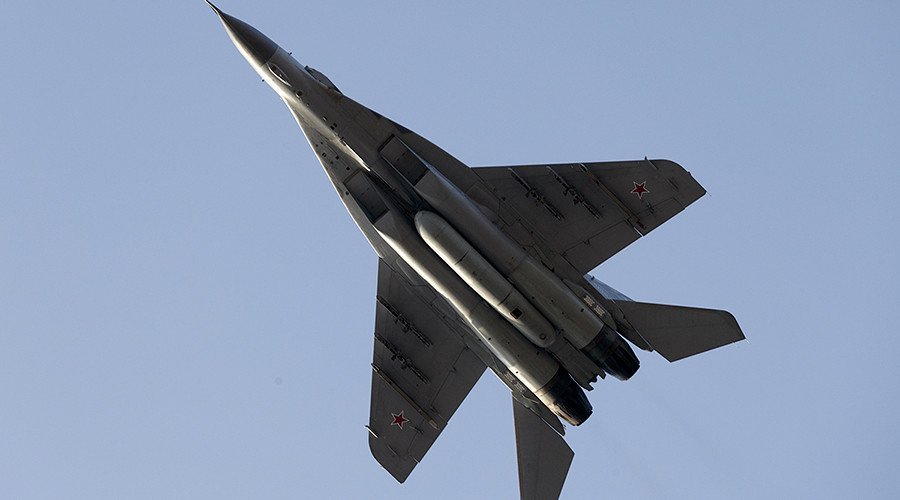 MiG-29 SMT is a thoroughly modern aircraft, the most up-to-date model in serial production by the MiG corporation. The plane was initially intended for export, but some 30 aircraft eventually made it into the Russian Air Force.
READ MORE: Russian Defense Ministry releases VIDEO of cruise missile launch that hit ISIS in Syria
The MiG-29 SMT features modern avionics systems, electronics, new radar and larger fuel tanks, which gave the plane a longer range, as well as its distinctive "hunchback" appearance.
The plane is designed for use with high-precision weapons, making it suitable not only for air superiority missions, but for ground attacks.
You can share this story on social media: