Hurricane Jose threatens further destruction in Caribbean (IMAGES)
Published time: 9 Sep, 2017 14:09
Edited time: 10 Sep, 2017 07:33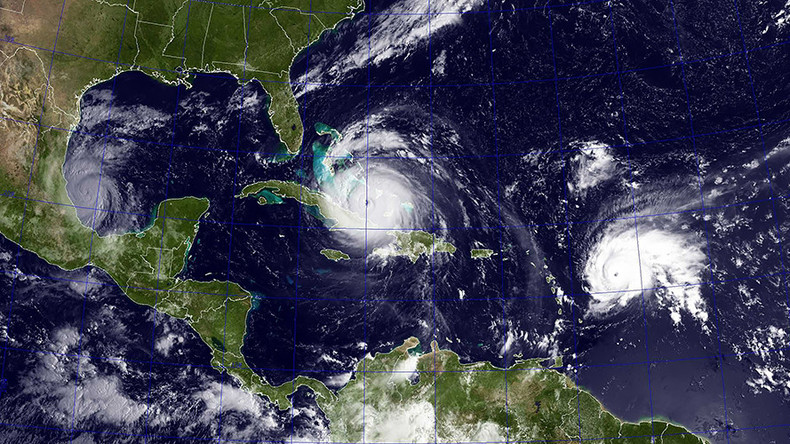 Residents of Caribbean islands hit by Hurricane Irma are bracing themselves for more upheaval as Hurricane Jose threatens to wreak further havoc on the already storm-ravaged region.
READ MORE: Stream of planes flees Florida ahead of Hurricane Irma (IMAGES)
On Friday, 21 people were killed and thousands displaced in the eastern Caribbean as Irma battered Cuba and the Bahamas. Now, near-category 5 Hurricane Jose is following a similar path, with the islands of St. Martin and St. Barthelemy expected to feel the full force of its 155mph winds over the weekend.
"I don't think it takes a rocket scientist to know that further damage is imminent," inspector Frankie Thomas of the Antigua and Barbuda police said.
The US Hurricane Center has issued tropical storming warnings for Barbuda and Anguilla as well as Saba and St. Eustatius. It has also issued a tropical storm watch for the British Virgin Islands and Antigua.
READ MORE: ISIS supporters hail Hurricane Irma as 'soldier of Allah' & 'another 9/11'
This is the first time that the Atlantic has had two hurricanes with winds of 150mph at the same time, according to meteorologist Philip Klotzbach of Colorado State University.
The Caribbean has been ravaged by storms in recent days.
Speaking during a live TV broadcast Wednesday, Barbuda Prime Minister Gaston Browne said that around 90 percent the island has been destroyed by Irma.
"It's absolute devastation," he said. "The island is literally under water. In fact, I'm of the view that, as it stands now, Barbuda is barely habitable."
The storms come one week after Hurricane Harvey struck southeast Texas, leading to widespread flooding and deaths of more than 60 people.
Meanwhile, category 1 Hurricane Katia is thought to be weakening over Mexico, a country still reeling from its most powerful earthquake in a century.
READ MORE: 'It was all horrific': Apocalyptic scenes from fatal Mexico quake (VIDEOS)
Mexican national emergency services chief Luis Felipe Puente said this week that Katia has "worrying characteristics" because it is slow-moving and could dump rain on areas already flooded in recent weeks.