Stream of planes flees Florida ahead of Hurricane Irma (IMAGES)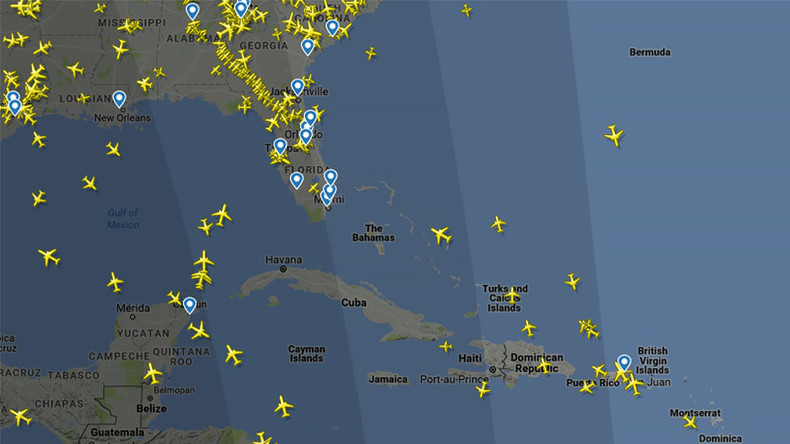 Air traffic data shows Florida residents are making a mass exodus from the state as Hurricane Irma rolls on towards the US coast.
Dramatic live data from Flightradar24 shows planes leaving the region in droves.
READ MORE: Hurricane Irma on track for direct hit on Miami (LIVE UPDATES)
A comparison of air traffic at noon Saturday with the same time last week revealed stark differences.
Around 5.6 million people in the state have been ordered to evacuate urgently as Irma is forecast to hit the Florida Keys as a Category 4 storm early Sunday.
"Based on what we know, the majority of Florida will have major hurricane impact and deadly winds. We expect this along the entire east coast and west coast," Governor Rick Scott said.
"All Floridians should be prepared to evacuate."
The large number of planes leaving the state comes as several airports prepare to suspend operations during Irma. Officials have warned locals not to use the airport as a last resort for evacuation and are warning of possible delays and cancellations.
Irma made landfall on Friday night, on the Camaguey Archipelago of Cuba with maximum sustained winds of 160mph, according to the National Hurricane Center.