'Pray for us': Hurricane Irma declared major disaster as it batters Florida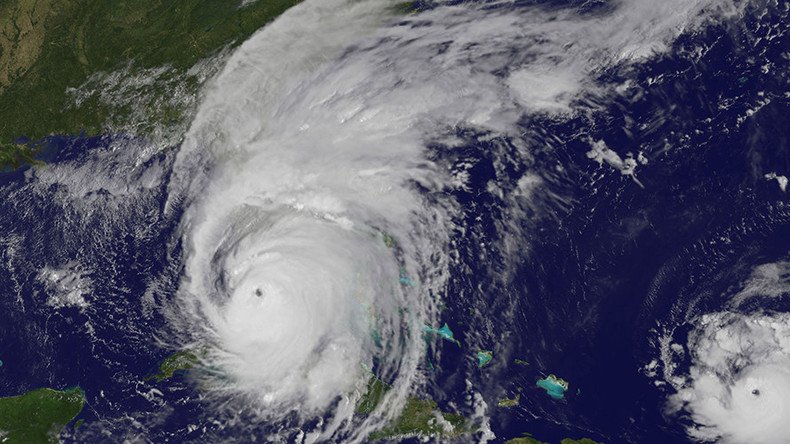 Hurricane Irma made landfall in southwest Florida as a Category 4 storm, bringing gusts of up to 130 mph in some areas. The US death toll has risen to 10, and millions have been left without power as a result of the storm's extraordinary power.
13 September 2017

20:34 GMT

Police have begun a criminal investigation into the deaths of eight individuals at a Florida nursing home that lost power in the wake of Hurricane Irma.

8 patients from the Hollywood Hills Rehabilitation Center are now confirmed dead. More information to be released soon.

— HollywoodFL Police (@HollywoodFLPD) September 13, 2017

Police said three of the residents at the Rehabilitation Center at Hollywood Hills were found dead when they arrived, while another five have reportedly died since then, according to the Associated Press.

Investigators believe the deaths were heat-related, Hollywood Police Chief Tom Sanchez said, adding that the building has been sealed off as investigators conduct a criminal investigation.

"It's a sad state of affairs," Sanchez said, according to the Associated Press. "We all have elderly people in facilities, and we all know we depend on those people in those facilities to care for a vulnerable elderly population."

Florida Governor Rick Scott (R) has asked first responders to check in with the healthcare facilities in their area and "make sure nursing homes and assisted living facilities are able to keep their residents safe."

"Every facility that is charged with caring for patients must take every action and precaution to keep their patients safe – especially patients that are in poor health," Scott said in a statement.

Scott said that if investigators find the facility was not meeting the state standards of care, they will be "held accountable to the fullest extent of the law." He added that all of Florida's 309 hospitals currently have power or are running on generator power.

12 September 2017

12:57 GMT

At least 11 people were killed following Hurricane Irma in the French territories of St. Barts and St. Martin, President Emmanuel Macron said during his visit to Guadeloupe, an insular region of France in the Caribbean.

The hurricane also left "a lot of injured" and many people are still unaccounted for, the head of state added.

12:09 GMT

Residents and business owners in Key Largo, Tavernier, and Islamorada were allowed to return as of 7am local time on Tuesday.

Either a yellow re-entry sticker or proof of residency/business ownership is required, Monroe County officials wrote in a Facebook post.

They added that people should bear in mind that services are still limited throughout the county.

"Most areas are still without power and water. Cell service is spotty. And most gas stations are still closed," officials wrote.

They added that a roadblock is being put around mile marker 74, where part of US Route 1 was swept away by Irma. A road crew is expected to begin repairs later on Tuesday.

03:28 GMT

The National Hurricane Center (NHC) has downgraded Hurricane Irma to a tropical depression with wind speeds reaching a maximum of 35 miles per hour on Monday. In the most recent public advisory, the NHC stated that "all storm surge warnings and tropical storm warnings have been discontinued," and no coastal watches or warnings remain in effect.

Forecasts predict Irma will denigrate as it moves through Georgia on Monday evening and dissipate as it moves into Tennessee on Tuesday.

03:16 GMT

The Department of State has announced it will send planes to evacuate US citizens from the Dutch island of St Maarten in the Caribbean on Tuesday at 7:30am local time.

The department warned passengers that flights out of the Princess Juliana International Airport will be on a first come, first serve basis. Those who wish to leave the island were advised to be at the airport no later than 2:00pm local time. Passengers should expect long wait times at the airport, which they said has no running water and very limited shelter.

02:44 GMT

Officials in Monroe County stated that residents will be allowed to return to the Florida Keys on Tuesday at 7:00am. Those who wish to return must present a yellow re-entry sticker or proof of residency or business ownership from Key Largo, Tavernier and Islamorada.

Monroe County to open entry into Keys at 7 a.m. Tues. for residents in Key Largo, Tavernier & Islamorada -- to MM 73...

— Monroe County News (@monroecounty) September 12, 2017

... Must provide yellow entry sticker or proof of residency in Key Largo, Tavernier or Islamorada. #hurricaneirma

— Monroe County News (@monroecounty) September 12, 2017

Key West City Commissioner Sam Kaufman issued a statement on Monday that said the Florida Department of Transportation has completed its inspection of bridges and US Route 1. However, two sections of the road were washed away during the storm and will not be repaired until the end of the week. All major roads in the city of Key West have been cleared of debris, Kaufman said.

The Monroe Board of County Commissioners posted a statement online that said the National Guard has entered the Keys to help recovery efforts. They added that a majority of the region is still without power, water, and cell service.

"We know this has been a difficult time for everyone and people are anxious to return to their homes," Monroe County Administrator Roman Gastesi said. "We are working as quickly as we can to make our roads and bridges safe and to restore power, water and medical services."

02:05 GMT

As Hurricane Irma moves inland, President Donald Trump has approved an emergency declaration for the state of Alabama, ordering federal assistance to supplement local response efforts.

The state of emergency authorizes the Federal Emergency Management Agency (FEMA) to "identify, mobilize, and provide, at its discretion, equipment and resources necessary to alleviate the impacts of the emergency."

The National Weather Service (NWS) has issued a tropical storm warning for parts of the state that forecasts wind speeds of 30 to 40 miles per hour, with gusts reaching up to 55 miles per hour.

The NWS in Birmingham, Alabama, also warned drivers to be on alert for falling trees, posting a video on their Twitter page that shows a car smashing head-on into a fallen tree south of Atlanta.

01:31 GMT

Six people have died in Florida as a result of Hurricane Irma, according to the Associated Press.

The Winter Park Police Department, located just north of Orlando, posted a statement on Facebook that said officers found a deceased male on Monday morning. The police said that the man, who was later identified as 51-year-old Brian Paul Buwalda, appears to have died after being electrocuted by a downed power line. However, they added that the exact cause of his death is still being investigated by the medical examiner's office.

Another three deaths have been reported in Georgia and one in South Carolina, bringing the total death toll in the US to 10, according to reports from local authorities.

01:11 GMT

The manager of a Pizza Hut restaurant in Jacksonville, Florida, posted a notice during Hurricane Irma, warning that employees would be punished if they missed shifts due to evacuations.

"If evacuating, you will have a 24-hour period before storm 'grace period' to not be scheduled," the written statement read. "You cannot evacuate Friday for a Tuesday storm event! Failure to show for these shifts, regardless of reason, will be considered a no call/no show and documentation will be issued."

The statement also emphasized in all capital letters that if an evacuation was ordered, all employees "MUST return within 72 HOURS."

In response, the company issued a statement that said they "do not have a policy that dictates when team members can leave or return from a disaster, and the manager who posted this letter did not follow company guidelines."

On Monday, the city of Jacksonville reported streets were flooded with two to four feet of water after the Hurricane.

The Jacksonville Sheriff's Office also advised residents to stay off the roads, citing "standing water all over, downed power lines, and trees down."

11 September 2017

22:55 GMT

Florida Governor Rick Scott (R) joined the US Coast Guard Monday for an aerial tour of the Florida Keys to survey the impact Hurricane Irma had in the area.

Scott told reporters at a news briefing after the aerial tour that Monroe County, which encompasses the Florida Keys, experienced an estimated 10 feet of surge as the storm made landfall.

"I know for our entire state, but especially the Keys, it's going to be a long road," Scott said. "There's a lot of damage."

Officials in Monroe County announced that the Keys are still closed to residents as emergency responders work to clear the roads and restore power, water and medical services to the islands.