Dozens of Al-Nusra, ISIS-affiliated jihadists entered Germany posing as refugees – report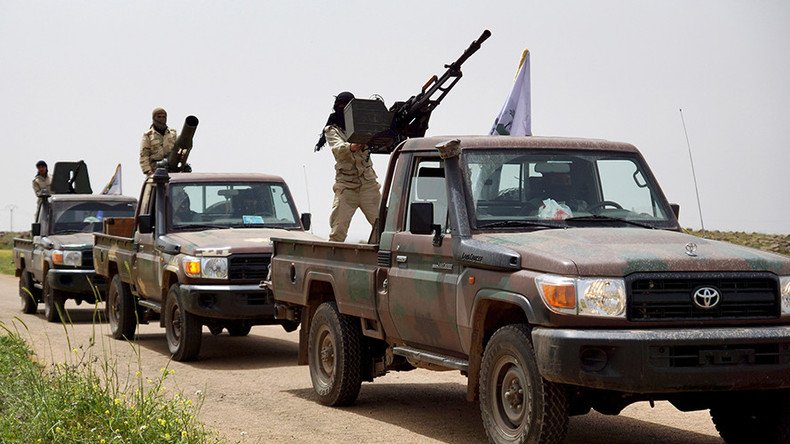 Several dozen Syrian extremists linked to both al-Nusra Front and ISIS, who committed "numerous massacres" of civilians and captives, have sought asylum in Germany, Der Spiegel reports.
Some 60 members of a Syrian militant group called Liwa Owais al-Korani or the Owais al-Korani Brigade arrived to Germany as refugees, Der Spiegel reports, citing sources within the German security services.
The Owais al-Korani Brigade initially fought on the side of the Free Syrian Army but then switched sides and joined al-Nusra Front (now self-styled Jabhat Fateh al-Sham) – Al Qaeda's affiliate in Syria, the weekly says, adding that the group also fought alongside Islamic State(IS, former ISIS/ISIL) in the Raqqa province for months.
The group's fighters were involved in "numerous massacres of captured civilians and Syrian soldiers," the report says, adding that at least 300 people died at the hands of the militants.
One of the Owais al-Korani Brigade former commanders identified as Abdul Dschawad al-K., who came to Germany in October 2014 and was granted asylum, took part in the mass execution of civilians and prisoners of war.
During the massacre that happened near the Syrian town of Tabka in March 2013, the Owais al-Korani Brigade militants killed 36 policemen, administrative workers and militia fighters who supported Syrian President Bashar Assad. Some of the massacre victims were beheaded.
Less than half of group members identified so far
The German state security service, the Federal Office for Protection of the Constitution (BfV), established a special task force to deal with the group members who came to Germany, according to the Spiegel report. So far, the investigators have successfully identified 25 former Owais al-Korani Brigade fighters who sought asylum in Germany.
Some of the group's members have already been charged with war crimes and will stand trial in late September. Abdul Dschawad al-K, who is also among those charged, not only took part in massacres in Syria but also reportedly planned to carry out a terrorist attack in the German city of Dusseldorf in the name of Islamic State.
In the meantime, the security services believe that more than 30 former Owais al-Korani Brigade fighters who entered Germany remain unidentified as the investigators have so far failed to track them down.
The German security services came on the trail of the group by chance after one of its members admitted to being a former Owais al-Korani Brigade fighter during his asylum interview, Spiegel reports. In a separate incident in 2014, other members of the group were recognized by the relatives of their victims, who also came to Germany as refugees.
German security services repeatedly warned against terrorists disguised as refugees
Over the past few years Europe has witnessed the biggest refugee crisis since World War II, which reached its peak in 2015.
Germany has been the most popular destination for new arrivals, and the country has allowed in more than 1 million asylum seekers since 2015, as German Chancellor Angela Merkel introduced her so-called 'open-door' policy for those fleeing war and persecution in Middle Eastern and African countries.
The mass influx of refugees had a major impact on Germany's security situation. The head of the Bavarian department of the BfV, Manfred Hauser, warned in August 2016 that "hit squads" linked to Islamic State might have infiltrated Germany disguised as refugees. He added that his agency was looking into "hundreds" of such cases.
Around the same time, Germany fell victim to a series of terrorist attacks carried out by refugees and claimed by Islamic State. In July 2016, a rejected asylum seeker blew himself up outside a wine bar near a music festival in the German town of Ansbach. The explosion injured 15 people.
The same month, a 17-year-old Afghan refugee attacked passengers on a train in Wuerzburg, shouting, "Allahu Akbar" and wounding five people. The attacker was shot dead by police, who later found a homemade Islamic State flag in his room.
The most notorious attack, however, happened in December 2016 when a Tunisian asylum seeker, who had pledged his allegiance to Islamic State, plowed a truck into a Christmas market in Berlin, killing 12 people.
In 2016 alone, jihadists carried out five attacks while security services thwarted another seven, according to the BfV.
Since that time, the German security services have repeatedly warned against the high level of a terrorist threat in the Federal Republic, with the head of the BfV, Hans-Georg Maassen, saying that Germany "must expect further attacks by individuals or terror groups" which "may occur any time."
A BfV report published this summer put the number of Islamists who remained in Germany at 24,400, including around 10,000 Salafists, an ultra-conservative movement within Sunni Islam, followers of which have been prone to terrorism. It also once again warned that new potential terrorists could be "possibly entering Europe under cover as part of the migration movement" as well as those returning from war zones in Syria and Iraq.
In April 2017, a report by Der Spiegel said that thousands of Afghan refugees who came to Germany admitted during interviews with representatives of the German Federal Office for Migration and Refugees (BAMF) that they either had contacts with some radical Islamist groups in Afghanistan or had directly fought for the extremists.
The weekly also said at that time that the German Federal Prosecutor's Office had already opened criminal cases against 70 Afghan refugees after verifying their statements and six asylum seekers had been arrested.
You can share this story on social media: