4 brothers 'strongly suspected' of being Al-Nusra members arrested in Germany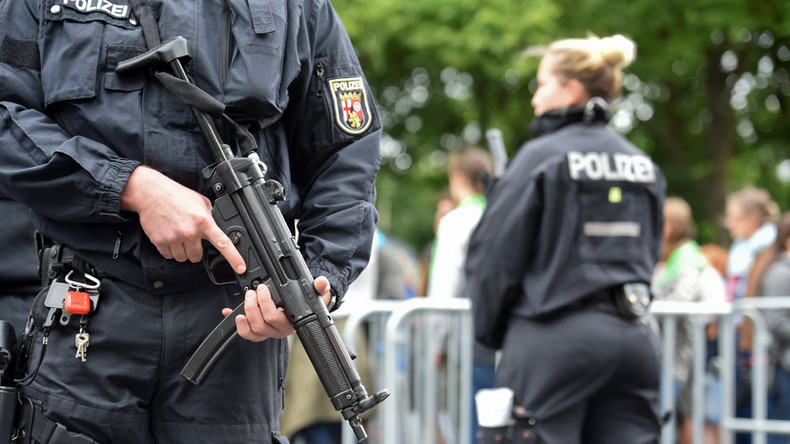 Police in northern Germany have arrested four brothers, all Syrian nationals, on suspicion of being members of the Al-Nusra Front terrorist organization. The brother are facing charges of war crimes, the Federal Prosecutor's Office said on Monday.
"Mustafa K. (41), Abdullah K. (39), Sultan K. (44), and Ahmed K. (51) are strongly suspected of being members of foreign terrorist organization 'Jabhat al-Nusra [Al-Nusra Front],'" a statement from Germany's Federal Prosecutor's Office said.
"The four suspects joined Jabhat al-Nusra in Syria at the beginning of November 2012 at the latest," it reads further.
Mustafa K. and Sultan K. are in particular suspected of having displaced people in Syria, who were under the protection of international humanitarian law, with the pair "charged with the commission of war crimes" in the arrest warrant.
The four Syrians were arrested and their homes searched by police in the German federal states of Lower Saxony, Schleswig-Holstein and areas surrounding the city of Hamburg and Lubeck in northern Germany.
It's believed that together with other members of Al-Nusra Front they forced pro-government residents as well as Kurds out of the city of Ras al-Ayn, which is in northern Syria on the border with Turkey.
Along with about 20 other Al-Nusra members, Mustafa K. and Sultan K. reportedly captured a public servant and displaced his family from the city, inhabited predominantly by Arabs and Kurds. "The property of the [Assad regime official] family member was plundered by them," the statement said.
Sultan K. and Abdullah K. are also said to have been engaged in fighting alongside terrorists against the Kurdish People's Protection Units (YPG).
The brothers allegedly drove to the northern part of the community and "demanded the inhabitants [of Ras al-Ayn] leave the city."
"A machine gun was mounted on the bed of the pickup truck," the German Prosecutor's Office statement said. On Tuesday, the accused are set to face initial pre-trial processes at the Federal Court of Justice.
Last month, German MPs agreed measures to "improve enforcement of deportation rulings," including allowing immigration officials to monitor refugees' cell phone data and speed up deportations.
The Federal Office for Migration and Refugees (BAMF) will be allowed, among other things, to monitor and assess the cell phone data of migrants who arrive without documents, in order to clarify their identity.
The measures are said to be in response to December's Christmas market attack in Berlin by rejected asylum seeker Anis Amri, 24, who plowed a truck into a crowd of people, killing 12. He managed to escape Germany following the attack, successfully crossing the borders of Germany, France, and Italy. Amri was eventually killed in a shootout with Italian police in Milan on December 23.
According to security services, around 550 people currently pose a potential terrorism risk in Germany, Der Spiegel reported in January.