Germany to fingerprint 6yo asylum-seekers & monitor messenger apps over terrorism fears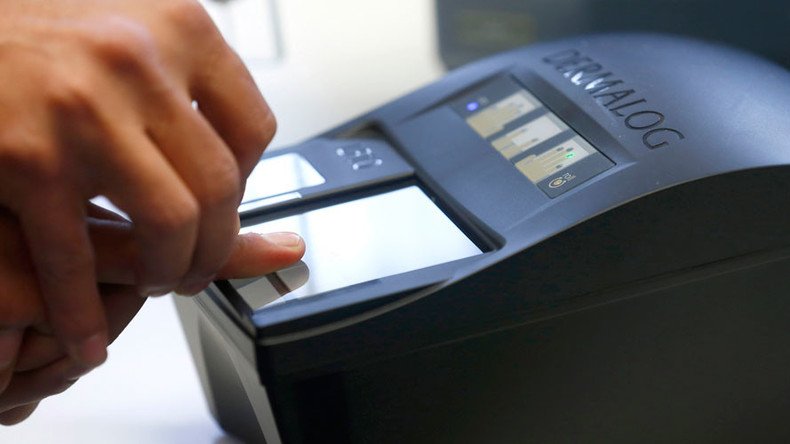 The interior ministers of German states agreed that it may be necessary to fingerprint the children of asylum-seekers even as young as six, to combat radicalization. They also greenlighted the potential monitoring of messenger apps.
The nationwide decrease in the age from which fingerprinting children would be legal in Germany, was one of the measures taken this week at the Interior Ministers' Conference (IMK) in Dresden, which ended on Wednesday. Previously, children under 14 were not be allowed to undergo the procedure, but the ministers have now agreed to lower the limit to six.
The measure was strongly advocated by Bavarian Interior Minister Joachim Herrmann ahead of the meeting.
"In Bavaria, we have abolished the age limit for surveillance," he said in an interview earlier this month. "Normally, the domestic intelligence agency in Bavaria would not place children under surveillance. But if there is concrete evidence that a 12-year-old is with an Islamist group, we have to be able to monitor them, too."
He was apparently referring to an attempt by a 12-year-old boy to blow up a Christmas market in Ludwigshafen, Rhineland-Palatinate last December. The boy was reportedly radicalized by Islamist propaganda, but failed to cause any harm due to the poor design of the bomb he made.
During the conference, the interior minister of Saxony, Markus Ulbig, advocated the fingerprinting of minors as "a further measure to optimize asylum procedures."
His colleague from Lower Saxony, Boris Pistorius, is also a proponent of paying closer attention to children in refugee communities, but believes that post factum surveillance is the wrong way to deal with it.
"Children do not radicalize themselves. They become radicalized by their religiously fanatical parents," he told Norddeutscher Rundfunk.
Pistorius believes that children under threat of radicalization should be taken from their parents' custody to prevent such an outcome. He cited the example of a teen girl who was arrested after trying to stab a police officer at a train station in Hannover in February last year. Investigators found 2008 footage of her posing with notorious Salafist preacher Pierre Vogel. She was seven or eight years old at the time.
The move did, however, draw criticism. The Left party (Die Linke) said that the interior ministers simply pushed for the "unnecessary tightening of laws," which would result in "not one more police officer employed."
Another decision announced by federal Interior Minister Thomas de Maiziere, who was a guest at the IMK, is to take steps to crack down on encrypted communication apps like WhatsApp and Signal. The ministers say criminals and terrorists often use such tools to avoid surveillance by law enforcement.
"We can't allow there to be areas that are practically outside the law," de Maiziere told reporters.
According to Federal Prosecutor General Peter Frank, criminals have basically shifted 90 percent of their communication from SMS and telephone to encrypted messengers, such as Whatsapp.
Authorities also plan to infiltrate phones of the suspects with special software that would allow law enforcement to read the messages even before they have been sent. However, anti-virus software might detect and eliminate such Trojans within days, according to German media.
The ministers also want to improve the system of CCTV surveillance to monitor street traffic and strengthen communication between various state and federal agencies.
The meeting is the last of its kind before the September general election in Germany, in which the issue of domestic security is playing a significant part in campaigning.
You can share this story on social media: