Russia's new ambassador to US meets counterpart in Moscow
Published time: 28 Aug, 2017 13:38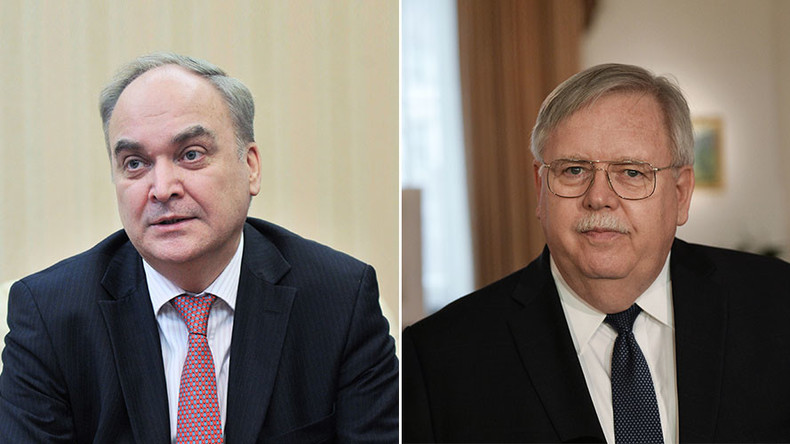 Russia's new Ambassador to the United States Anatoly Antonov has met his American counterpart in Moscow, John Tefft, to discuss "the current state of bilateral relations and certain international issues," the Russian Foreign Ministry said.
Antonov, who has a reputation as a hardliner, was appointed as Russia's top diplomat in Washington a week ago, replacing Sergey Kislyak after his decade-long tenure.
The rotation comes as the tension between the two countries remains at a level highest since the Cold War, with Russian and American diplomatic services involved in the stand-off.
Just as Antonov's long-expected appointment was announced, the US Embassy in Moscow announced that it would halt issuing non-immigrant visas in Russia till September and will no longer offer the service in its consulates in St. Petersburg, Ekaterinburg and Vladivostok at all.
In a comment published by the embassy on Saturday, Tefft insisted the move was not meant to punish the Russians and merely "a result of, not a response to" Moscow's decision to limit the number of employees the American embassy can have to that of the Russian embassy in the US.
The comment was described as a response to a question from a Russian man, submitted through Facebook.
"We are not trying to be vindictive here, but we've been reduced to the point where we have to allocate our resources to cover a whole range of issues. One of those is the visa function," he said.
READ MORE: US embassy in Russia temporarily halts issue of non-immigrant visas
Moscow imposed restrictions on the American diplomatic mission as a delayed retaliation for the decision taken by the Barack Obama administration to kick out dozens of Russian diplomats over Moscow's alleged meddling in last year's presidential election.
At the time, Moscow refrained from mirroring the move, but went ahead with it after the Trump administration imposed new sanctions against Russia, which targeted Russian financial system and its energy projects, particularly those in Europe.
The White House was forced to adopt the policy despite its own objections, because it was outlined in an act passed by the US Congress by a veto-beating majority.
Several European nations blasted the sanctions, seeing them as an attempt by the US to seize a portion of the European energy market from Russia.