Career diplomat Antonov to take over from 'spymaster' Kislyak as Russia's ambassador to US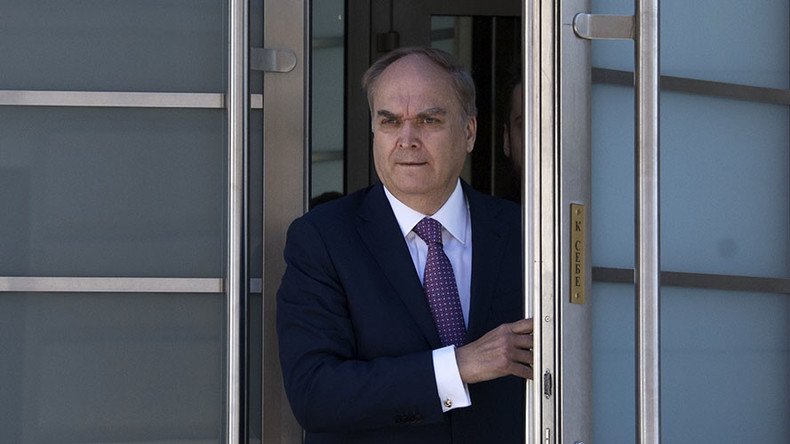 Moscow has selected Anatoly Antonov, a career diplomat specializing in defense and security issues, as its next ambassador in Washington. Antonov replaces Sergey Kislyak, who was painted as a shadowy spymaster by those targeting the Trump administration.
READ MORE: 'Intense Russophobia': US activist advises companies not to insure Russian ambassador's life
"According to the President's decree, Anatoly Antonov is appointed Ambassador Extraordinary and Plenipotentiary of the Russian Federation to the United States and the permanent observer of the Russian Federation at the Organization of American States in Washington," the statement on the Russian presidential website reads.
Antonov is presently Russia's deputy foreign minister.
Antonov is an experienced Russian diplomat, and began his career in 1978 shortly after graduating from the Moscow State Institute of International Relations.
He rose through the ranks to become the head the Foreign Ministry's Department for Security Affairs and Disarmament in 2004.
In 2011, he was appointed deputy defense minister to lend his diplomatic expertise to the Russian military's foreign relations. He returned to the Foreign Ministry last December to serve as a deputy responsible for military politics, although his eventual nomination as ambassador to the US was expected before any announcement was made.
The 62-year-old diplomat will replace Sergey Kislyak, who was in charge of maintaining Russia-US relations for almost a decade before he ended his tenure in July.
During Kislyak's final year in office he was in the US media spotlight over his contacts with several officials in the Trump administration, including former National Security Advisor Michael Flynn and Attorney General Jeff Sessions.
Critics of President Trump allege that the contacts with the Russian diplomat indicate collusion between his team and the Kremlin, which has been accused of influencing the 2016 presidential election in the Republican's favor.
READ MORE: 'The simplest things': Ex-Russian Ambassador Kislyak opens up on what he discussed with Flynn
Some media outlets described Kislyak as a sinister spymaster. Moscow has repeatedly denied influencing the election and has said that Kislyak's activities in the US did not go beyond the usual networking expected from an ambassador.
"If he's a spy then all ambassadors are spies," former US Ambassador to Russia John Beyrle told ABC in March. "He's not a spy. To call him a spy is to misunderstand what a diplomat, even a Russian diplomat, does," he said.
You can share this story on social media: