'Intense Russophobia': US activist advises companies not to insure Russian ambassador's life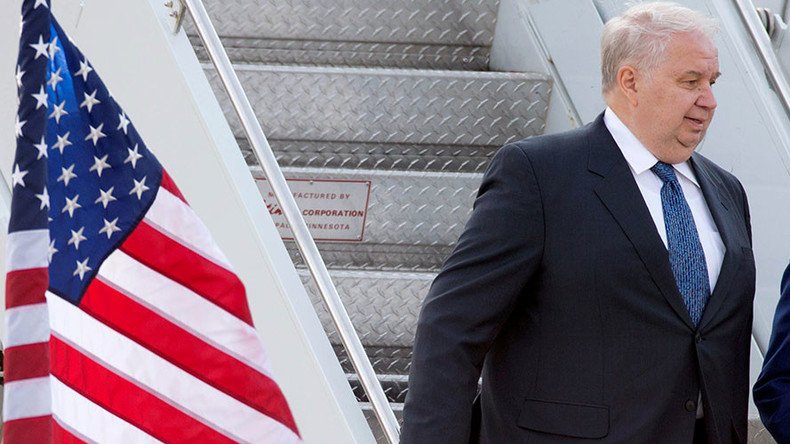 An odd tweet from an American LGBT and women's rights activist that warned Russian insurance companies not to cover the life of Russia's US ambassador has prompted a robust response from the spokeswoman for the Russian Foreign Ministry.
In a Facebook post, Maria Zakharova said the tweet showed "the intensity of Russophobia that has overwhelmed the United States."
"I do not even hope that Amy will ever learn about who Sergey Kislyak is and how much he personally has done to save Russian-American relations when the Obama administration announced its isolation crusade against Russia," the spokeswoman noted.
Word to the wise for Russian insurance companies: don't sell Kislyak life insurance.

— Amy Siskind (@Amy_Siskind) July 9, 2017
"But I very much hope that Amy will never learn what the American diplomats were doing, for example, in a number of countries in Latin America, the Middle East, and, of course, in Ukraine," Zakharova fired back, adding, "otherwise, it can provoke a crisis of the American insurance system."
The activist, Amy Siskind, who posted the tweet on Saturday, appears to be suggesting that Kislyak's life could be in danger once he returns to Russia after his tenure.
Bizarre conspiracy theories have emerged in the past alleging that some high-ranking Russian officials, including ambassador to Turkey Andrey Karlov and former press minister Mikhail Lesin, died when they fell out of favor with the Kremlin.
Kislyak has served as Russia's envoy to the US since 2008. He is expected to be replaced by career diplomat Anatoly Antonov, the current deputy minister of foreign affairs, whom the Russian parliament approved for the post in May, according to TASS news agency.
As ambassador to the US, Kislyak became the subject of allegations in the mainstream media claiming that Russia had played a role in securing Donald Trump's victory in the 2016 elections.
On one occasion, an unsourced CNN report alleged that Kislyak was a member of a Russian intelligence agency and acted as "a top spy and recruiter of spies," a claim that Moscow has repeatedly dismissed as groundless.
READ MORE: US intel 'routinely taps Russian ambassador's communications' – Lavrov
Some high-profile US ambassadors have strongly criticized the media frenzy targeting Kislyak, however.
"If he's a spy then all ambassadors are spies," former ambassador to Russia John Beyrle told ABC in March. "He's not a spy. To call him a spy is to misunderstand what a diplomat, even a Russian diplomat, does," he stated.
Zakharova has also lambasted the spying allegations, advising CNN to stop spreading lies and fake news.
You can share this story on social media: