Paris police evicts 2,500 migrants from makeshift camp under 'new' procedures (VIDEOS)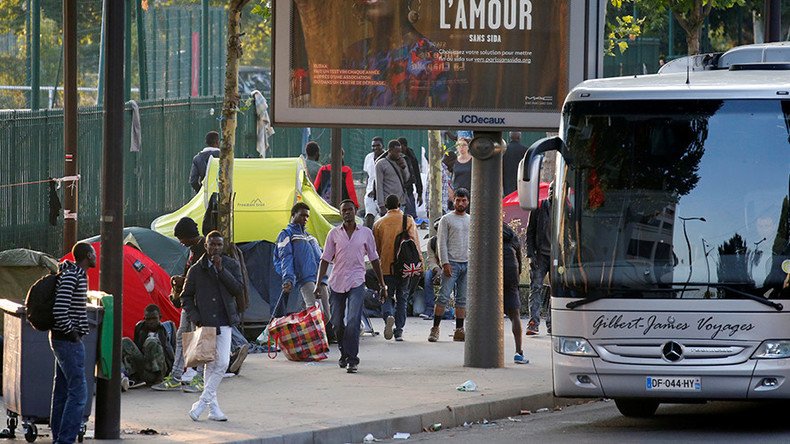 Almost 2,500 migrants of mainly African origin have been evicted from a makeshift camp, the 35th such operation in Paris over the past 2 years, but the first conducted under "new" rules. They were taken to 18 refugee centers across the French capital.
Shortly after 6am, around 350 policemen embarked on an operation to clear the makeshift facility around the Porte de la Chapelle area of the 2,459 migrants who had set up camp.
Queuing patiently in the rain, migrants mainly from Afghanistan, Sudan, Somalia and Eritrea, waited for their papers to get checked before being boarded on 30 buses that eventually delivered them to 18 shelters in the city.
READ MORE: Most French think there are 'too many foreigners,' say 'they don't feel at home' anymore – poll
"More than 2,000 accommodation places have been prepared," said Didier Leschi, Director-General of the French Office of Immigration and Integration (Ofii).
Friday's evictions in the north of Paris marked the 35th such operation over the past two years in the French capital, but with one notable exception, Le Parisien reports. This time, all of the migrants had to undergo a filtering process set up by the authorities.
"It's a new operation because everyone will undergo an administrative check and will then be sorted based on their situation," said a senior Paris police officer, Yann Drouet.
Drouet explained that those migrants who have applied for asylum in other EU states "will be temporarily cared for" until their return to that respective member state. Those whose asylum applications were rejected in France and elsewhere in the EU "will have to return to the border."
READ MORE: Migrants & refugees have tried to breach UK border 17,000 times this year – France
In July, Emmanuel Macron's government presented a "migrant plan" to create more than 12,000 places in reception centers for asylum seekers and refugees by 2019.

In Paris, the numbers of refugees have grown after the closure of the Calais migrant camp last October.
"We are reviewing the system.. [to] ensure that there are no more focal points, but that these migrants can be accommodated in the national asylum system," interior minister Gerard Collomb told RTL. The recurring evacuations over the past two years "show that there is a dysfunction in the Paris system," he added.
You can share this story on social media: