Up to 2,500 migrants evacuated from La Chapelle makeshift camp in Paris (PHOTOS)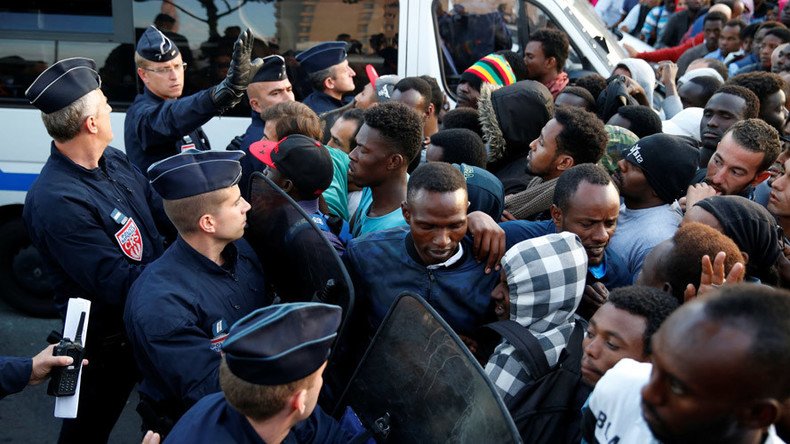 The authorities in the French capital have evacuated about 2,500 migrants who set up a makeshift camp near a local refugee center due to overflow.
The evacuation started at 6am local time on Friday, and saw about 60 buses taking migrants to other refugee centers across Ile-de-France region, including in Paris.
About 1,600 migrants were initially expected there, but Francois Ravier, a senior official with the Paris region prefecture, said "at least 2,500" people were evacuated, according to AFP.
The state offers only "temporary accommodation solutions", though, as the prefecture of police and the prefecture of Ile-de-France noted in a joint statement.
By 7am, 10 buses had already left, the regional prefecture representatives said, as cited by France TV Info.
Almost 350 police forces, as well as about a hundred of state employees participate in the evacuation, the police prefecture said.
[the caption says: No, it's not Chernobyl, it's the migrant camp La Chapelle evacuated by the staff wearing nuclear protection suits to avoid contracting illnesses]
Local police say unauthorized camps "present serious risks for the security and health of their occupants as well as neighborhood residents." City Hall reports it is the 34th such operation in the past two years, according to the AP.
Back in May, more than 1,600 were evacuated from the settlements around Porte de la Chapelle (translated as the Chapel Gate).
Last November, Paris opened the first 'humanitarian reception center' in La Chapelle. However, the center quickly overflowed, with some 400 people coming to the French capital per week, the Interior Minister Collomb said, as cited by France TV Info. Consequently, some 2,000 camped around the center in a makeshift camp.
The city authorities emphasize the gravity of the situation, with the Paris mayor Ann Hidalgo saying, "We should react very quickly, because there is a humanitarian emergency. This crisis will last, so it's better to organize all political parties, and not allow chaos to settle," as cited by Le Parisien.
Paris residents have been expressing their anger at the inflow of migrants for a few years now: one of the latest examples is the petition launched by women in an eastern Parisian district, over a 'male den' in their neighborhood where women are subject to harassment and sexist remarks. The petition scored almost 20,000 votes.
The French authorities are trying to deal with the crisis in the capital: Parisians can now download an app called No-Go Zone: users should report incidents of "aggression, theft, harassment, or incivility" in the city, and mark the location of those events on a map. The download count is now indicated at 1,000-5,000.
You can share this story on social media: