'Hit the brakes': China to US & N. Korea as both exchange strike threats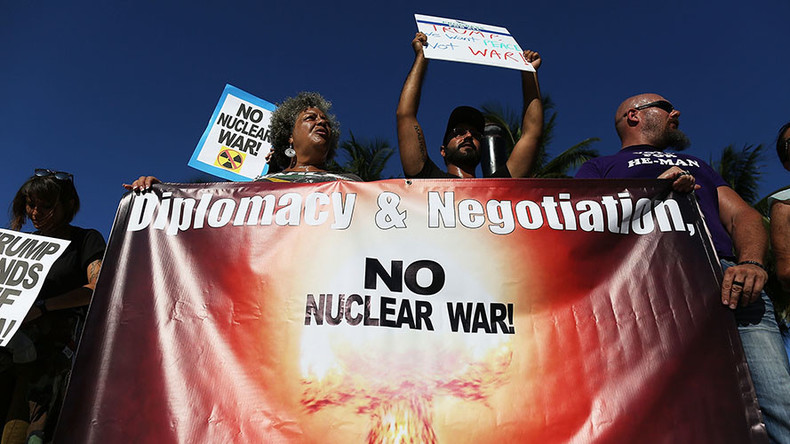 The US and North Korea must "hit the brakes" and find a peaceful resolution to their ongoing crisis, China's foreign minister said. It comes amid a war of words and mutual strike threats between Washington and Pyongyang.
The remarks by Chinese Foreign Minister Wang Yi were made during a Tuesday phone conversation with his Russian counterpart, Sergey Lavrov.
"The most important task for the US and North Korea is to 'hit the brakes' on their mutual needling of each other with words and actions, to lower the temperature of the tense situation and prevent an 'August crisis,'" Wang said during the conversation, according to a statement published on the Chinese Foreign Ministry's website.
He told Lavrov that China and Russia should work together to contain tensions and to not allow anyone to "stir up an incident on their doorstep."
Lavrov echoed Wang's sentiments, telling the Chinese foreign minister that "a resolution of the North Korea nuclear issue by military force is completely unacceptable and the peninsula's nuclear issue must be peacefully resolved by political and diplomatic methods."
The Russian foreign minister noted during the conversation that tensions between Washington and Pyongyang could rise once again, as the US and South Korea prepare to launch large-scale military drills on August 21.
However, South Korean President Moon Jae-in said on Tuesday that "there will be no war repeated on the Korean peninsula," adding that military action against Pyongyang should be decided by "ourselves and not by anyone else."
Moon said that Seoul would work with Washington to counter security threats, but stressed the need to focus on diplomatic efforts.
Meanwhile, the chairman of the US Joint Chiefs of Staff, Marine Corps Gen. Joseph Dunford, currently in China, met with his Chinese counterpart on Tuesday. No details of the meeting have been released, though AP reported the conversation "touched" on North Korea.
READ MORE: 'Korean peninsula on the brink': US & N. Korean warmongering paradoxically identical – Zakharova
Dunford's visit to China came after he stopped in Seoul to meet with senior South Korean military and political officials, as well as local media.
The top official will also visit Japan, which on Wednesday conducted air maneuvers with US bombers southwest of the Korean Peninsula. The exercises come after Pyongyang threatened to strike the US territory of Guam, stressing that a ballistic missile would fly over three Japanese prefectures.
However, the US also conducted several military drills and air patrols in the region prior to the threat.
Dunford has noted that the US is seeking to resolve tensions with North Korea peacefully, but said that Washington is willing to use the "full range" of its military capabilities.
US Secretary of State Rex Tillerson echoed that sentiment on Tuesday, telling reporters in Washington that "we continue to be interested in trying to find a way to get to dialogue, but that's up to [North Korean leader Kim Jong-un]."
That statement followed US President Donald Trump's warning last week that his country's military was "locked and loaded," and that North Korea would be faced with "fire and fury" if it continued to threaten the United States.
Kim vowed on Tuesday to wait a little longer before hitting Guam, and to watch "[the] stupid conduct of the Yankees," while urging Washington to refrain from further escalation of the crisis.
However, he said the plan could still go ahead, and threatened to "wring the windpipes of the Yankees and point daggers at their necks" in the event of any further "power demonstration."
On Wednesday, Trump praised the decision to delay the strike plan as "a very wise and well reasoned decision."