False alarm: Guam residents endure midnight danger alert amid North Korea standoff
Published time: 15 Aug, 2017 18:59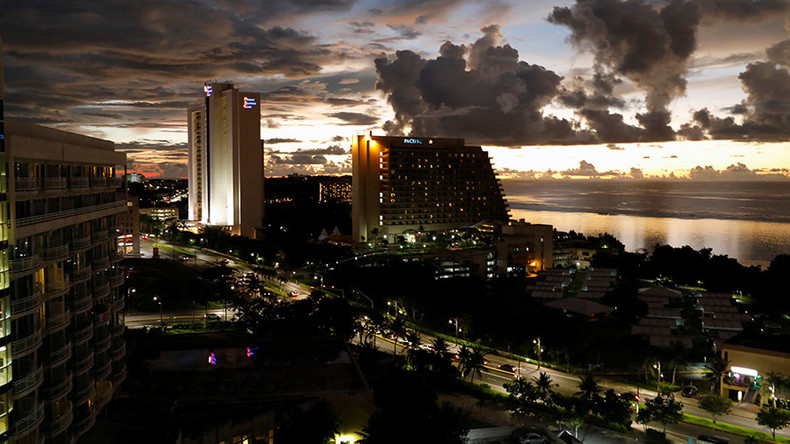 On midnight Tuesday, Guamanians were subjected to an emergency radio alert warning them of an unspecified "danger" against the backdrop of North Korean threats on the US territory. Officials revealed, however, that the warning was a false alarm and there was no imminent danger to the island.
The "civil danger warning" was broadcast by two radio stations, a music channel and a Christian network, at 12.25am, alerting listeners to an unspecified threat on Guam. The warning lasted 15 minutes but a statement from Guam Homeland Security and the Civil Defense office said it was a mistake and it was working to ensure "human error will not occur again".
"Residents and visitors are reminded to remain calm, even with the continued unconfirmed reports throughout the media,"said George Charfauros, Guam's Homeland Security Advisor.
"Remember there is no change in threat level, we continue business as usual and know there are US Department of Defense capabilities in place. We continue communication with our federal and military partners and have not received official statement warranting any concern for imminent threat to Guam or the Marianas."
Charfauros told reporters he was unperturbed by reports that Pyongyang had been repositioning its missiles, possibly in preparation for a strike.
"It is their Liberation Day... North Korea tends to use symbolism as part of their decision making," he said after hearing about the reports, as quoted by AFP.
"We are almost ecstatic that Kim Jong-un has backed off," he added.
For the most part, the atmosphere on Guam has been one of calm, but the island's lieutenant governor Ray Tonorio said it is prepared for the worst-case scenario.
"There doesn't appear to be any indication, based on what we're hearing, that there will be any missiles attacking in the near future or in the distant future," Tonorio said, as quoted by AFP.
"I think the rhetoric is one thing but if we have any belief, as a country or as an island, that there is going to be a threat, we are going to be prepared. We are going to be ready for it."
The threats by Pyongyang and counter threats by Washington come as President Donald Trump adopts a harsher stance against North Korea than his predecessor, Barack Obama, with the reclusive North Korean's defiantly ignoring UN Security Council rulings against its nuclear weapons program.
The war of words between Washington and Pyongyang took a more serious turn last week, when Trump threatened to unleash "fire and fury" on North Korea if it continued making threats against the United States. Pyongyang responded by saying it was working on a plan to launch a medium-range ballistic missile close to the US territory of Guam, some 3,200km from North Korea. Guam, a tiny US territory located in Micronesia in the western Pacific, is home to two major American military bases housing over 6,000 personnel.
However on Tuesday, the North Korean government seemed to back off, with reports from the Korean Central News Agency (KCNA) saying that leader Kim has vowed to wait a little longer to watch "the foolish and stupid conduct of the Yankees," urging Washington to refrain from further escalating the Korean crisis.