US ready to use 'full range of military capabilities' against N. Korea – top officer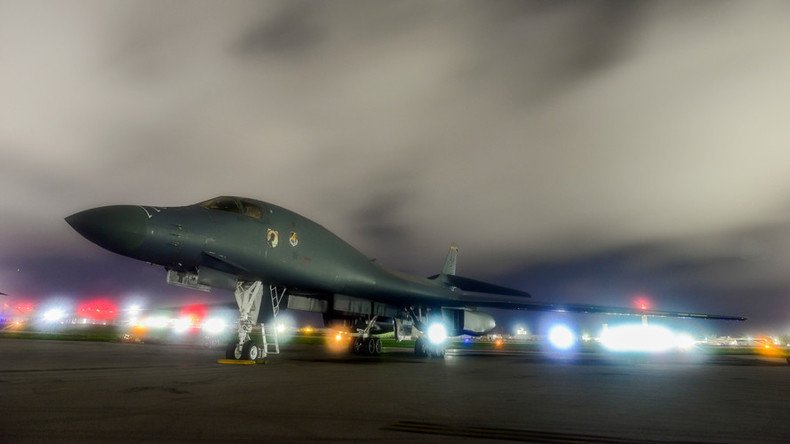 The United States is ready to use the "full range" of its capabilities if provoked by North Korea, the country's top military officer said, noting that Washington is still hoping for a "peaceful resolution" to the crisis.
Marine Corps Gen. Joseph Dunford, chairman of the Joint Chiefs of Staff, made clear on Monday that Washington is ready "to use the full range of military capabilities to defend our allies and the US homeland," according to US military spokesman Capt. Darryn James, as cited by AP.
Dunford previously stressed to reporters, however, that the US is "seeking a peaceful resolution to the crisis," local media reported.
The comments were made during Dunford's visit to South Korea, where he is meeting with the country's military and political officials, as well as local media.
Dunford, who is also visiting Japan and China during his trip, earlier told reporters traveling with him that he is aiming to "sense what the temperature is in the region."
He said that he will discuss military options if the "diplomatic and economic pressurization campaign" fails.
"We're all looking to get out of this situation without a war," Dunford said.
Dunford's visit to Asia comes just one week after US President Donald Trump said that the US military was "locked and loaded," and that North Korea would be faced with "fire and fury" if it continued to threaten the United States.
Military solutions are now fully in place,locked and loaded,should North Korea act unwisely. Hopefully Kim Jong Un will find another path!

— Donald J. Trump (@realDonaldTrump) August 11, 2017
South Korean President Moon Jae-in, who met with Dunford during his visit, separately called for a peaceful solution on Monday.
"There must not be another war on the Korean Peninsula," he said, according to his office.
However, Pyongyang maintained its tough rhetoric against the South and the US on Monday, accusing Washington of mobilizing a large number of troops and weapons for annual military drills set to take place with South Korea later this month.
"What matters is that if a second conflict (on the peninsula) erupts, that cannot help but lead to a nuclear war," the North's official Korean Central News Agency (KCNA) said in a commentary. "We are closely monitoring every move by the United States."
The Rodong Sinmun, North Korea's Workers' Party newspaper, previously stated that around 3.5 million students and workers had volunteered to join or rejoin the army in preparation for a possible confrontation with the US.
Meanwhile, Chinese President Xi Jinping called Trump on Saturday to urge restraint regarding the North Korean crisis, advising both Washington and Pyongyang to avoid words or actions that could worsen the situation.
Russian Foreign Ministry spokeswoman Maria Zakharova also warned on Sunday that both sides were inching dangerously close to a confrontation.
"How close have we come to this situation? Yes, we've come very close to a possible armed conflict," she said in an interview with the TV channel Russia-1.
"If there really is an armed force scenario and if everything indeed happens the way the Washington establishment is trying to scare us all with, the situation will be simply catastrophic," she said, adding that the US isn't considering the full extent of the repercussions that could result if the conflict was escalated.
Both Russia and China have previously denounced North Korea's missile launches, but have also called on the US to halt military drills in the region.
Meanwhile, Adam Garrie, managing editor at The Duran, said the US could possibly launch the first strike.
"There's always that possibility that America could launch the first strike. If we're looking at the sheer numbers, leaving both personalities on both sides, then America is a country with a proven track record of being a first striker, being an aggressor..." he told RT on Saturday.
You can share this story on social media: