North Korea says 3.5mn volunteers 'ready to retaliate against US'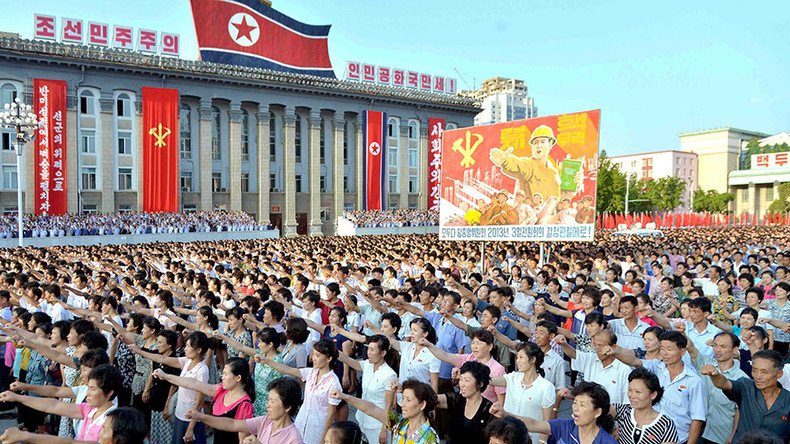 At least 3.5 million young people and retired soldiers have joined the North Korean military to fight in the event of a war against the US, state media said, adding that people are rising up "to retaliate against" Washington.
"All the people are rising up across the country to retaliate against the US thousands of times," North Korea's Rodong Sinmun, the Workers' Party newspaper, reported, as cited by the South Korean Yonhap news agency.
According to the paper, about 3.47 million people, including students and retired soldiers, asked the authorities to enlist them in the military.
"In North Hwanghae Province, 89,000 young men pleaded to enlist or reenlist on August 9 alone. In Daedong County of South Pyongan Province, more than 20,000 students, party members and laborers filed enlistment or reenlistment requests," the paper said.
On Wednesday, tens of thousands of North Koreans rallied on Kim Il-sung Square in Pyongyang, the capital, after the UN Security Council passed a new round of sanctions against the country.
The restrictions came after North Korea's latest missile tests, which it claimed involved the launch of intercontinental ballistic missiles (ICBMs). Russia, however, said that the missiles were intermediate range.
The war of words between Pyongyang and Washington has escalated since US President Donald Trump took office. Trump has repeatedly stated that the White House has run out of patience with North Korean leader Kim Jong-un.
Amid the recent spike in tensions, Trump threatened North Korea with "fire and fury like the world has never seen," later adding that the threat wasn't tough enough.
Pyongyang recently said it was working on a plan to launch a medium-range ballistic missile near the US territory of Guam, some 3,200km from North Korea. US officials then told NBC that Washington has a plan for a preemptive strike on North Korean missile sites with bombers stationed in Guam, should Trump order it.
On Friday, the US president again added fuel to the fire, saying that if Pyongyang "acts unwisely," Washington has military solutions "locked and loaded."
In the meantime, Russian Foreign Minister Sergey Lavrov said on Friday that there is a strong risk that Washington and Pyongyang could engage in military conflict.
"There are direct threats of deploying [military] power," he said, adding that "the side that is stronger and smarter" should take the first step to defuse tensions.

Speaking to RT, Leonid Ivashov, a political analyst and retired Russian colonel-general, said North Korea wouldn't stand a chance against the US if the conflict entered a military stage.
"It's a total mismatch," Ivashov, who currently heads the Academy of Geopolitical Problems, said of a possible confrontation between Washington and Pyongyang. "The US is a superpower, while North Korea is a small regional player. North Korea can't compete with America on any level."
Ivashov was also skeptical of Pyongyang's threats to target Guam in case of an attack.
"The US has a powerful anti-missile defense system off the coast of the Korean Peninsula… which may well intercept Pyongyang's missiles. The Guam airbase which North Korea is planning to attack is also covered by US anti-missile defense," he said.
You can share this story on social media: