N. Koreans denounce Trump's 'fire & fury' threat in massive rally (VIDEO)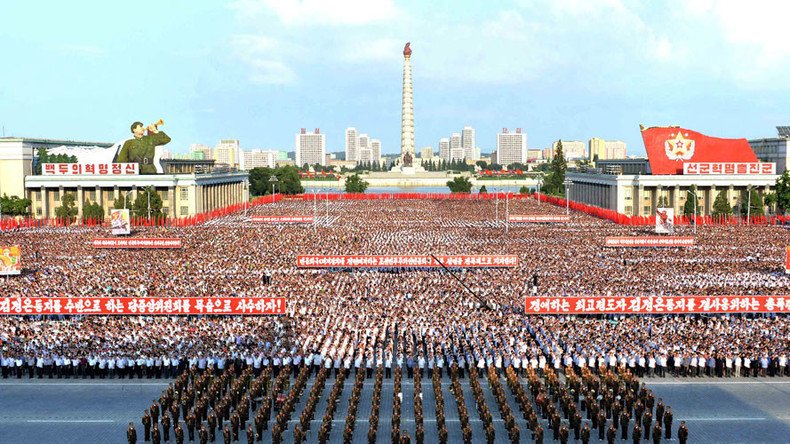 Tens of Thousands of North Koreans rallied on Kim Il Sung Square in Pyongyang, after the UN Security Council passed a new round of sanctions and US President Donald Trump threatened the country with "fire and fury" over its missile tests.
Footage from the Wednesday rally showed North Koreans lined up in an organized fashion behind military troops, clapping to remarks made by government leaders.
Some held propaganda placards as they marched through the square, chanting as they pumped their fists in the air.
Thousands of North Korean workers, dressed in white shirts, also angrily marched through the square while carrying the country's flag.
Meanwhile, Pyongyang officially dismissed Trump's promise that North Korean threats would be "met with fire, fury, and frankly power, the likes of which the world has never seen before."
In addition to shrugging off Trump's words, Pyongyang also called the US leader "bereft of reason," stating that "only absolute force can work on him."
READ MORE: Who said it: Donald Trump or Kim Jong-un? (QUIZ)
The rally also came after the United Nations' Security Council approved new sanctions against North Korea, following the country's latest missile tests.
The war of words between Pyongyang and Washington has escalated since Trump took office, with the US president repeatedly stating that the White House has run out of patience with the government led by Kim Jong-un.
The era of strategic patience with the North Korea regime has failed. That patience is over. We are working closely with.... pic.twitter.com/nCZ51HnIdx

— Donald J. Trump (@realDonaldTrump) June 30, 2017
Both sides have also taken action, with North Korea conducting numerous ballistic missile tests – one for the "American bastards" on the Fourth of July – and the US flying bombers over the Korean peninsula.
In their latest move, North Korea's state media have outlined details of the country's plan to strike Guam, which would include four missiles fired over Japan and landing within a few kilometers of the US territory. The plan is scheduled to be ready by mid-August.
Meanwhile, reports have emerged stating that the US has a plan to strike North Korean sites with B-1 bombers, with a senior intelligence official calling it the "best of a lot of bad options."
You can share this story on social media: