'Missiles to fly over Japan & land near Guam': N. Korea's strike plan vs US to be ready in 'days'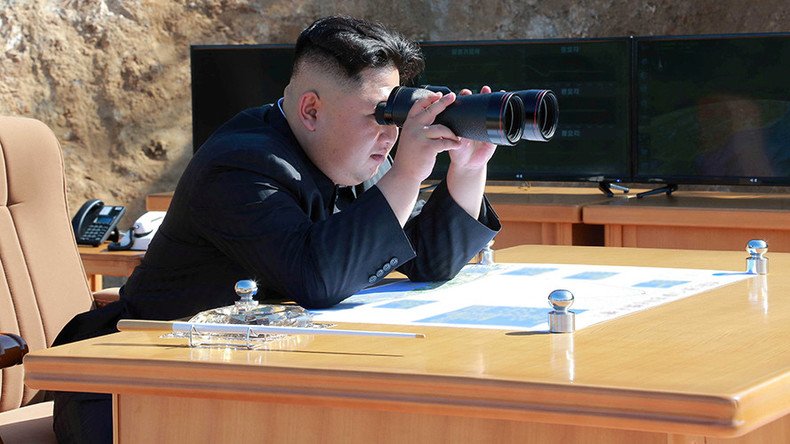 North Korean state media has outlined details of the country's Guam strike plan expected to be ready by mid-August. The attack will reportedly include four missiles fired over Japan and landing within a few dozen kilometers of US territory.
Continuing the heated exchange with US President Donald Trump, Pyongyang's state media outlet KCNA said that the country's leader, Kim Jong-un, will be presented with an elaborate plan of the attack by mid-August, Reuters reported.
The plan envisions launching four Hwasong-12 rockets that would "cross the sky above Shimane, Hiroshima and Koichi Prefectures of Japan," the report says, citing General Kim Rak Gyom.
The missiles are set to "fly 3,356.7km (2,085.8 miles) for 1,065 seconds" before practically reaching the shores of Guam, landing in the waters just "30-40km away."
Pyongyang also ridiculed Trump's promise to counter any incoming threats from the North with "fire and fury," labelling the remark a "load of nonsense" and in its turn vowing to act with "absolute force."
Trump's initial remark courted controversy, prompting Secretary of State Rex Tillerson to reassure Americans that North Korea poses "no immediate danger" to US, while Defense Secretary James Mattis stated that Washington is sure in its military preeminence, urging North Korea to refrain from "consideration of actions that would lead to the end of its regime and the destruction of its people."
Trump's national security aide Sebastian Gorka compared the current escalation between US and North Korea to the Cuban crisis of 1962, calling on US lawmakers to back Trump's stance in the unfolding crisis.
"This is analogous to the Cuban missile crisis. We need to come together," Gorka said in an interview to Fox and Friends on Wednesday, recalling that "during the Cuban missile crisis, we stood behind JFK."
Echoing Trump's remark, Gorka also warned the self-isolated nation against "testing America."
Speaking about Washington's military edge, he described the US as "not just a superpower" but a "hyperpower," at the same time playing down the dangers posed by the North, calling it a "very, very insignificant threat in terms of scale."
While Trump's sharp tone has given rise to concern within the part of the US establishment, with Senator John McCain casting doubt that the US leader is ready back up his rhetoric with real actions, others appeared to be quite enthusiastic, estimating US chances in a face-to-face military confrontation.
Retired Gen. Tom McInerney argued that the US would emerge victorious, with its ability to level North Korea within 15 minutes in case it launches an attack on South Korea.
"If he [ Trump] gets our full nuclear retaliatory capability, within minutes after one round going into Seoul, there will be nothing left," McInerney told Fox News on Monday.
Moscow, meanwhile, once again appealed for both sides to show restraint and to resume dialogue to defuse the tensions building up in the region.
"As we said, we want the tensions to ease, and we have to start seriously devising and inventing ways for a political dialogue on this issue," Russia's UN envoy, Vassily Nebenzia, said on Wednesday, as cited by TASS.
Addressing the US administration in particular, Nebenzia said that he hopes Washington will "refrain from any moves that would provoke another party into actions that might be dangerous."
The Japanese government responded to the new threat by saying that it deems itself to be fully within its rights to shoot down the North Korean rockets heading to Guam, as they pose an existential threat to Japan, the country's defense minister Itsunori Onondera told Kyodo news agency on Thursday.
Yoshihide Suga, Japan's chief government spokesman, said that Japan's self-defense forces would "take necessary measures" in case of the military escalation outlined in the plan unveiled by KCNA.
"We can never tolerate this," he said, stressing the importance of "US deterrent power."
READ MORE: 'Small enough to fit in a missile': US & Japan issue warnings over Pyongyang's nuclear plans
"President Trump has said all options are on the table and the government welcomes that policy," Suga said, as cited by the Straits Times. Security experts estimate that the Japanese military currently lacks the ability to intercept the missile on its own.
Eddie Baza Calvo, the governor of Guam, meanwhile, called on residents and tourists visiting the state to proceed with their duties as usual, while admitting that the situation is growing tense.
"Obviously, for our administration, and for the people of Guam, there is concern and worry, but there is no panic," Calvo told Fox News on Thursday, adding that an "America community such as Guam, as well as other American communities, will be protected."
You can share this story on social media: