'Small enough to fit in a missile': US & Japan issue warnings over Pyongyang's nuclear plans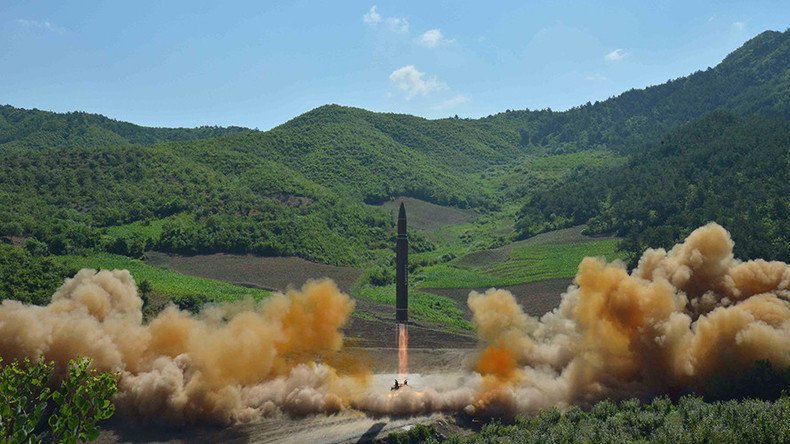 North Korea has successfully developed a nuclear warhead small enough to fit inside a missile, a new US defense report warns.
"The intelligence community assess North Korea has produced nuclear weapons for ballistic missile delivery, to include delivery by ICBM-class missiles," a DIA report read, according to reporters at the Washington Post who have seen the document.
The warning from the Defense Intelligence Agency (DIA) comes just hours after Pyongyang threatened "physical action" in response to sanctions imposed by the UN Security Council over the weekend.
The analysis also puts North Korea's arsenal at 60 nuclear weapons, more than previously thought but a figure still being debated among experts.
The report comes just as Japan issued its own assessment of North Korea's nuclear capabilities on Tuesday.
Less certain than the DIA report, a defense white paper commissioned by the Japanese government only went as far as saying that Pyongyang may be capable of miniaturizing a nuclear warhead.
The secretive state announced that it had successfully tested the smaller design last year, but there has been no independent evidence to support the claim.
The white paper stated that North Korea has reached a "new stage" in its weapons program following successful tests of its intercontinental ballistic missiles in recent weeks.
"It is conceivable that North Korea's nuclear weapons program has already considerably advanced and it is possible that North Korea has already achieved the miniaturization of nuclear bombs into warheads and has acquired nuclear warheads," the report read.
Japan has held several major evacuation drills in recent times as the country prepares for an attack from its Korean neighbors.
The UN Security Council voted unanimously to impose sanctions on North Korea following its continued testing of its nuclear systems in recent months.
READ MORE: China's foreign minister says Japan kowtows to US policies in Asia
The resolution could reduce the North's export revenue by as much as $1 billion, or a third of its current total.
US President Donald Trump tweeted his praise of the move, saying: "After many years of failure, countries are coming together to finally address the dangers posed by North Korea. We must be tough & decisive!"
After many years of failure,countries are coming together to finally address the dangers posed by North Korea. We must be tough & decisive!

— Donald J. Trump (@realDonaldTrump) August 8, 2017
Russia has been skeptical about North Korea's nuclear arms capability, with Russian Deputy Foreign Minister Sergey Ryabkov saying Pyongyang is "years and years away from a moment it can weaponize" a nuclear warhead.
READ MORE: N. Korea 'years and years away' from viable nuclear device – Russian Deputy FM
You can share this story on social media: