Iran aims to boost military spending in retaliation to US sanctions
Published time: 13 Aug, 2017 12:59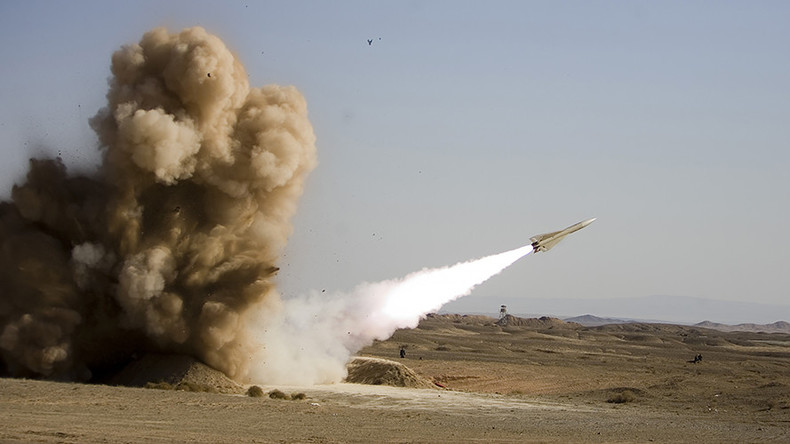 The Iranian parliament has approved a bill to counter "terrorist and adventurous actions" of the US in the region. The legislation includes increased spending on Tehran's missile development and Revolutionary Guards.
The countermeasures, which were approved by 240 Iranian lawmakers on Sunday, would see more money allocated to Iran's missile program as well as to the Quds Force, the Revolutionary Guards' extraterritorial operations branch, among other measures. They would split $520 million from the budget equally between missile activities and the Revolutionary Guards, according to Press TV.
The legislators stressed that the bill does not violate the 2015 nuclear deal between Iran and major world powers, but accused Washington of attempts to "kill" the landmark agreement.
"The bill has very wisely tried not to violate the JCPOA [Joint Comprehensive Plan of Action] and also give no chance to the other party to manipulate it," Deputy Foreign Minister Abbas Araqchi said, as cited by IRNA news agency. He added that the bill will be supported by the government of President Hassan Rouhani, as it is required to pass a second reading before being submitted to the Guardian Council for final approval.
"Iran will never pay the price of violating the JCPOA," spokesman for the National Security and Foreign Policy Committee Hossein Naghavian said, adding that Washington "is after imposing the cost of killing the nuclear deal."
READ MORE: Trump admin slaps Iran with new sanctions despite nuclear deal compliance
The legislation states that the US is behind terrorist activities, and seeks to sanction US entities for providing any support to terrorists, including Islamic State (IS, formerly ISIS/ISIL) and Al-Nusra Front (Jabhat Fateh al-Sham). Any entities involved will be refused entry permits, deprived of properties in Iran and have their bank accounts blocked.
Other government bodies, including the Ministries of Foreign Affairs, Defense and Intelligence, as well as the Islamic Revolutionary Guard Corps (IRGC), Quds Force, and the Islamic Republic Army, will provide a comprehensive strategic plan "to counter US threats and bullying," the bill suggests, as cited by Iranian media.
Earlier, Tehran vowed to retaliate following new sanctions signed by US President Donald Trump on August 2. Tehran believes the latest punitive measures listed in the 'Countering American Adversaries Through Sanctions Act' violate the terms of the P5+1+EU nuclear deal, designed to ensure Iran doesn't make nuclear weapons.
While the Trump administration acknowledges that Tehran has not violated the nuclear agreement, in July the US still imposed new sanctions on companies and individuals allegedly supporting or involved in the country's ballistic missile program.
The US and Iranian militaries have also been engaged in confrontations in the Persian Gulf. On August 8, an Iranian drone buzzed a US Navy fighter jet attempting to land on an aircraft carrier in the area. In July, American warships were involved in two incidents, firing warning shots at Iranian vessels in the Persian Gulf. Both incidents were blasted by Tehran as "unprofessional and provocative."