Iran vows 'intelligent & proportional' retaliation against US sanctions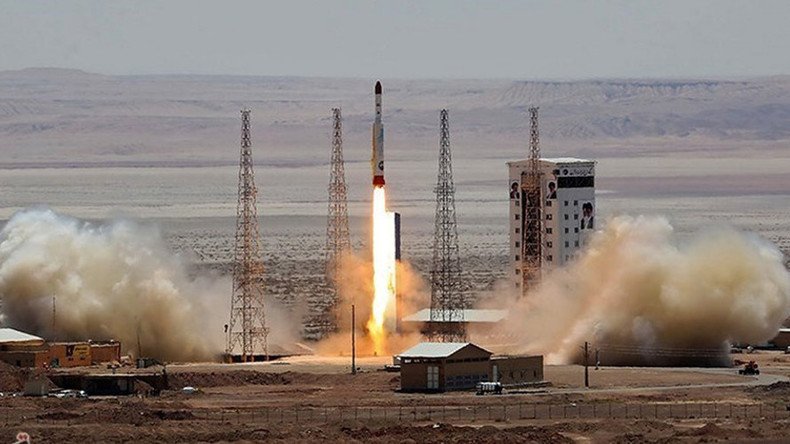 Iran has vowed to pursue smart and carefully considered countermeasures against the US after Donald Trump signed a bill which authorizes new sanctions against the Islamic Republic. Tehran believes the latest punitive measures violates the terms of P5+1+EU nuclear deal with Iran.
On Wednesday, President Trump signed 'Countering America's Adversaries Through Sanctions Act' into law – punitive legislation which targets Iran along with Russia and North Korea.
'Full-fledged economic war': Medvedev slams Trump's 'humiliating' cave-in on Russia sanctions
Tehran believes the latest measures, which targets Iran's missile program, violate the 2015 Joint Comprehensive Plan of Action (JCPOA) signed between Iran and six world powers, including the United States.
Last month, the US treasury imposed new embargoes on Iranian companies that provide material support to Iran's military, as well as on organizations involved in the country's ballistic missile program.
"In our view, the nuclear deal has been violated and we will show an appropriate and proportional reaction to this issue," deputy foreign minister Abbas Araqchi said Wednesday, according to the ISNA news agency.
Reiterating that the main goal of the White House administration is apparently to "destroy the nuclear deal," Arachi promised that Tehran will deliver an "intelligent" response to America's "hostile" act.
Under the terms of the deal signed by the Obama administration,Tehran, in exchange for the lifting of international sanctions, agreed to reduce the number of its uranium enrichment centrifuges by two-thirds.
The Islamic Republic also agreed to cap its enrichment below the levels needed for weapons-grade material, reduce its enriched uranium stockpile by 98 percent from around 10,000kg for 15 years, and allow international inspections.
Just before Trump inked the new legislation, Iran's Supreme National Security Council also promised to take countermeasures.
"A host of retaliatory measures in the legislative, technical, nuclear, economic, political, defense, and military areas, have been devised by the body monitoring the JCPOA, which will be pursued in a coordinated way and in parallel with each other," Iran's Supreme National Security Council Secretary Ali Shamkhani said Wednesday.
"The arrogant US policies could only be confronted through dependence on national power and capabilities," he added.
On Tuesday, Parliamentary speaker Ali Larijani announced that Iran lodged a complaint over the recent US sanctions with the joint commission that supervises the implementation of the nuclear deal.
You can share this story on social media: