US Navy fires warning shots at Iranian vessel in Persian Gulf for 2nd time in days – Tehran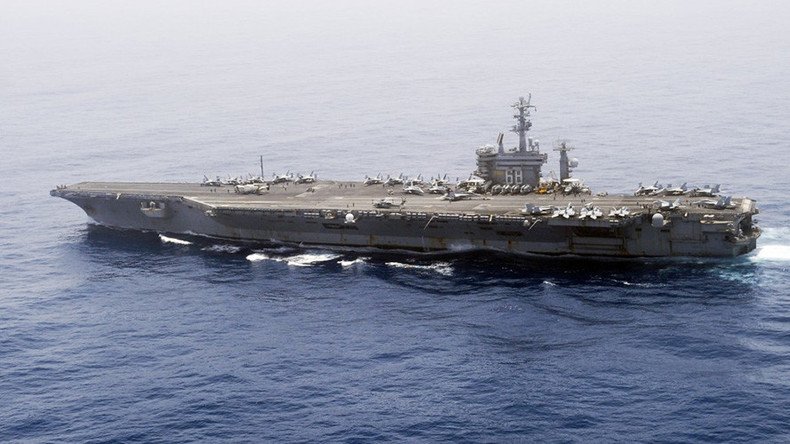 US warships fired several warning shots at Iranian patrol boats in the Persian Gulf in what Tehran calls another "provocative and unprofessional move." A similar incident involving the US and Iran took place in the region on Tuesday.
The US Nimitz-class aircraft carrier and another warship fired warning shots at Iranian vessels in the middle of the Persian Gulf on Friday, according to Islamic Revolutionary Guard Corps (IRGC), as cited by local media.
"With only a few days since a provocative move in the northern end of the Persian Gulf in which the US Navy ships fired warning shots at an Iranian vessel, the American warships have once again taken the same action in the middle of the Persian Gulf," the IRGC said in a statement.
The US Navy ships were intercepted by IRGC missile boats near the Resalat gas-oil field, when they approached the Iranians and dispatched a helicopter at 4pm on Friday, according to the statement. Then American warships opened fire in what the IRGC described as "a provocative and unprofessional move." The Americans then left the area, the IRGC added, while the Iranians went on with their patrol.
"The US warships in a provocative and unprofessional move began firing warning shots at the Iranian vessels, to which the IRGC Navy's ships paid no attention and continued with their mission."
It is the second confrontation between US and Iranian navies in the Persian Gulf this week. On Tuesday, the USS Thunderbolt fired several warning shots from a heavy machine gun in response to an Iranian vessel's "provocative actions," according to Pentagon officials. Tehran challenged the statement, saying that the warship moved towards an Iranian vessel of the 3rd Naval Division and fired two rounds in an attempt at intimidation.
READ MORE: US is like 'armed robber breaking into your house' – Iranian defense minister
In March, Washington said that Iranian fast-attack boats came dangerously close to a US aircraft carrier in the Strait of Hormuz. Tehran dismissed the allegations and warned that Americans "would be responsible for any unrest in the Persian Gulf," and urged it to "change its behavior."
You can share this story on social media: