Japan 'outraged' at resumed US Marine flights after fatal Australia crash
Published time: 8 Aug, 2017 11:05
Edited time: 11 Aug, 2017 12:46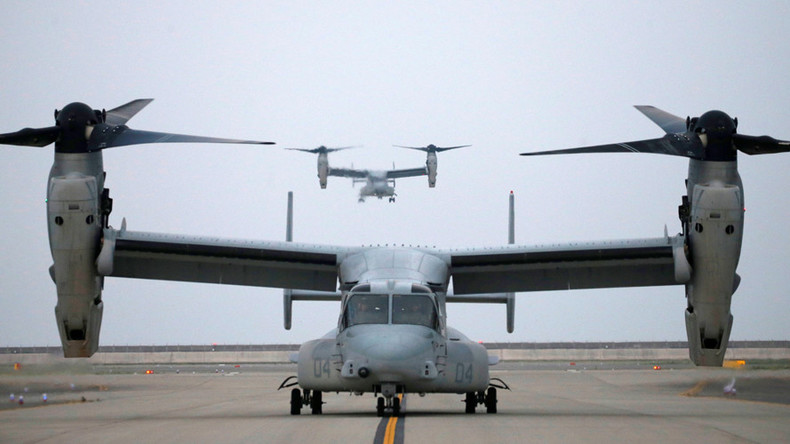 Japan has pushed back against continuing US military MV-22 Osprey flights on its territory, after calls to ground all the aircraft following a fatal crash off the Australian coast.
READ MORE: Australian Navy ships & divers search for 3 missing US Marines after aircraft crash
Flights of MV-22 Ospreys – the primary assault support aircraft for the US Marines – resumed in Okinawa just two days after what the Marines called a "mishap" when an MV-22 Osprey went down off the Australian coast. The crash left three servicemen dead, the military confirmed on Monday night.
"It is impossible to overcome the utmost outrage concerning the conducted flight, despite our requests [to refrain from it]," Deputy Okinawa Governor Moritake Tomikawa told the top commander of the US military in Okinawa, Lieutenant General Lawrence Nicholson on Tuesday, Japan's NHK newspaper reports citing the official.
Earlier, the Japanese Defense Ministry called on the US to refrain from all MV-22 Ospreys operations until the causes of the crash are determined.
"I have requested that they refrain from all flight operations by MV-22 Ospreys in Japan," Defense Minister Itsunori Onodera said Sunday, as cited by Stars and Stripes. Onodera added that Tokyo is discussing the participation of the aircraft in the joint US-Japan drills scheduled for October.
However, the US military noted that the aircraft operate all around the world, as cited by NHK. At the same time, another US defense official told AFP on Monday that the US is considering "an across-the-board safety review," while "the grounding may affect all flying squads in the service."
Okinawa saw an incident involving several US military aircraft, including Osprey tilt-rotor aircraft and F/A-18 fighter jets, in June. Back then, the military resorted to emergency landings on the same day at various Okinawa bases, sparking concern among local authorities.
Okinawa has previously protested the presence of US military forces on the island. In December 2016, thousands of locals joined a protest against American military bases in Japan.
READ MORE: 'No Ospreys in our skies!' Okinawa governor leads mass protest against US military bases (VIDEO)