Several US aircraft make emergency landings in Japan on same day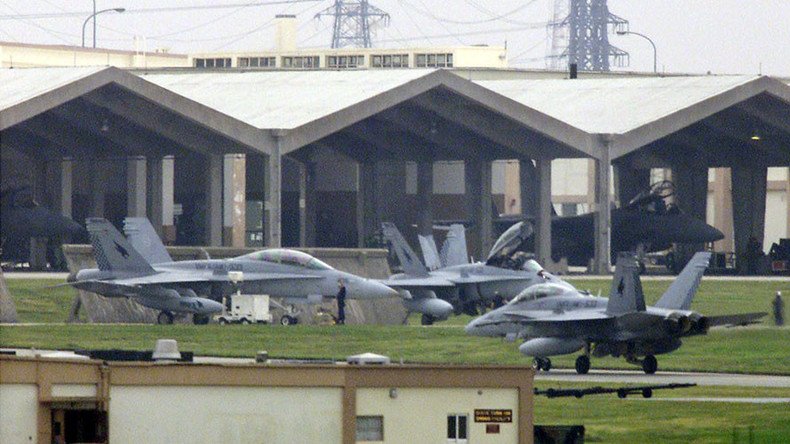 Several US military aircraft, including Osprey tilt-rotor aircraft and F/A-18 fighter jets, had to make emergency landings on the same day at various bases on the Japanese island of Okinawa, local media reported.
An Osprey tilt-rotor aircraft based at the US Marine Corps Air Station Futenma had to carry out an emergency landing at the US airfield on Ie Island on Tuesday night, after a cockpit warning light was activated, Kyodo reported.
On the same day, three F/A-18 fighter jets landed at the Japanese Air Force's Matsushima base in Miyagi Prefecture at around 1.45pm local time, after one of the pilots reported engine trouble.
The fighters were reportedly heading to US Marine Corps Air Station Iwakuni in western Japan, from Alaska, the newspaper said.
Local authorities voiced concern over the incidents. "It's extremely deplorable we've seen these things occur one after another," said Kiichiro Jahana, chief of the Okinawa governor's secretary's office.
There was no immediate comment from the Pentagon.
Last December, a F/A-18 Hornet crashed off the coast of Japan. The aircraft belonged to the 1st Marine Aircraft Wing, stationed at the Iwakuni air station in the Yamaguchi prefecture. The plane crashed in the Kochi Prefecture, and the pilot was killed.
In September last year, an AV-8B Harrier II ground attack aircraft stationed at the US airbase in Okinawa crashed into sea off the Okinawa coast shortly after taking off.
Japanese authorities have recently begun offshore construction work to relocate the US Marine Corps' Air Station Futenma from the densely-populated Ginowan to a less populated location in eastern Okinawa – the Henoko coastal area of Nago.
Many residents, including Okinawa Governor Takeshi Onaga, object to the heavy US military presence on the island, saying that the Futenma base should be removed, not relocated
A number of large demonstrations have taken place in Okinawa and mainland Japan, with people demanding the withdrawal of US forces and greater accountability of troops to Japanese jurisdiction.
You can share this story on social media: