US fighter plane reportedly crashes off Okinawa coast – media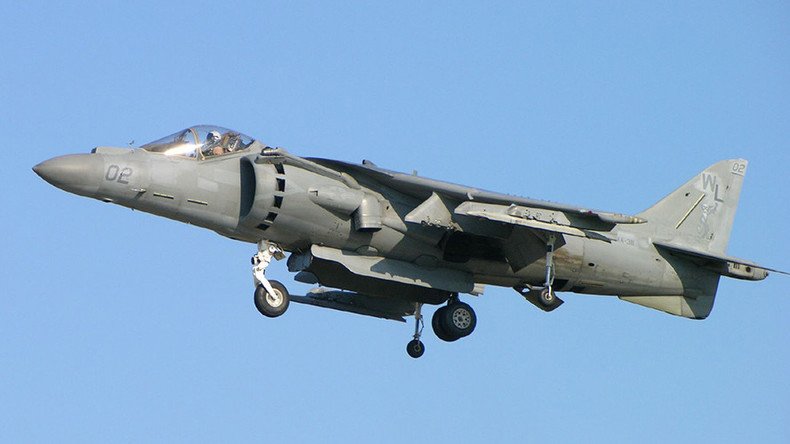 A US military aircraft has crashed into the sea off the coast of the southern Japanese island of Okinawa, according to local media reports. The coastguard is reported to have dispatched a helicopter and patrol boat to search for the plane.
The military aircraft, which is believed to be an AV-8B Harrier II ground attack aircraft, was stationed at the US airbase on the island of Okinawa. According to the Okinawa Times, the fighter plane crashed after taking off into sea off the island's east coast.
The crash site is reportedly 150km east of the Kunigami prefecture, in the island's north.
The 11th Regional Coast Guard is conducting a search for the plane, with a helicopter and patrol boat having reportedly been dispatched.
The crew of the aircraft has been rescued, the Japanese daily Ryukyu Shimpo reports, citing local officials.
【「米軍機が海上に墜落か」沖縄駐留の緊急司令センター】(続き)
海上保安本部に米軍機の種類や詳しい場所などの情報はまだ寄せられていないということですが、海上保安本部はヘリコプターや巡視船を出動させて捜索にあたることにしています。
(2016年9月22日 15:29 NHK)

— 特務機関NERV (@UN_NERV) September 22, 2016
The AV-8B Harrier II is a single-engine aircraft, which is capable of vertical or short takeoff and landing, and was designed in the 1970s. The military plane is used by the US Marines.
The Kadena Airbase, from where the military plane took off, is a major US military instillation on the southern island of Okinawa. The island holds several large US military bases that occupy nearly one-fifth of its territory and accommodate about 50,000 US nationals, including 30,000 military personnel.
The bases on Okinawa make up around 75 percent of all US military installations in Japan, and is an important geopolitical outpost for Washington allowing to project power in the region that neighbors China and the Southeast Asia.
The bases have long been blamed for noise and air pollution, while many locals also see them as an uneasy legacy of post-WWII American military occupation.
In June, at least 50,000 people took to the streets to protest against the heavy US military presence on the island after a local woman was murdered by a former US Marine.
The 20-year-old woman, Rina Shimabukuro, was raped and murdered by a 32-year-old civil contractor and former US Marine, Kenneth Franklin Gadson, a month earlier. He confessed to strangling and stabbing his victim.
In a separate case, a 24-year-old Marine Justin Castellanos has been charged with the rape of a drunk and passed-out Japanese woman at a Naha hotel, where he was also staying.
On June 5, a 21-year-old US Navy sailor Aimee Meija was caught in a drunk-driving head-on collision with two other cars, injuring two people, with her blood alcohol level six times the legal limit, according to Asahi Shimbun newspaper.
You can share this story on social media: