'Leave Chinese land or face war': China MoD official warns India amid border standoff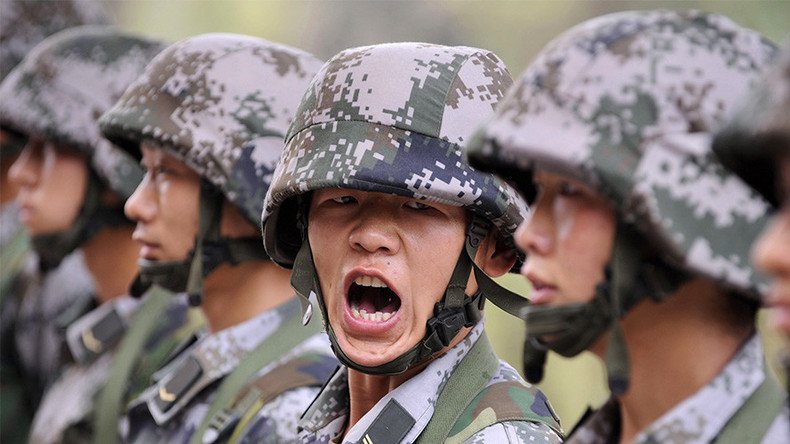 A combative Indian defense expert who accused Beijing of running bellicose news stories against Delhi drew a strong response from his Chinese TV show counterpart, who said Indian troops must leave the contested Doklam area if they do not want war.
The remarks came amid a heated debate between a retired Indian Army major general and now defense commentator, Ashok Mehta, and the director of the Chinese Defense Ministry's Center for International Security Cooperation, Senior Colonel Zhou Bo.
The two officers were apparently invited to comment on the tense border standoff over the Doklam plateau – a contested area sandwiched between India, China and Bhutan – on a Tuesday news show run by China Global Television Network (CGTN).
READ MORE: China warns India not to 'push its luck' amid border stand-off in Himalayas
Offered to speak first, Mehta fired off a lengthy yet passionate tirade, accusing the Chinese of fanning anti-Indian sentiments in an overly aggressive way.
"Chinese media, think tanks, Xinhua, Global Times, PLA Daily have written the most aggressive and most belligerent stories about threatening India, taking India to war, opening a two-front conflict, teaching India a lesson," the former general complained. "I mean, that kind of language is not being used in India!" Mehta added.
Asked by the news anchor if he could provide any proof and name specific Chinese articles featuring warmongering rhetoric, the Indian expert failed to cite any, but instead recalled his professional background.
"I retired from the army in 1991, and I'm in the media since 1991," Mehta replied. "I am on TV, I am a columnist, so I study dozens of newspapers and magazines," he said.
"General, you have been talking too much! This is not the right way of having this conversation," Zhao interrupted.
"Let me just use a few seconds – you [Indian troops] are on Chinese territory, so if you do not want a war, you've got to go away from Chinese territory," the senior colonel remarked.
The on-air spat comes amid a tense border standoff over the narrow plateau of Doklam (Donglang in Chinese) that flared up in June. China and India's ally, Bhutan, have been disputing the area at the tri-junction of the countries' borders for decades. Whereas India says the area belongs to Bhutan, China claims it as its own territory.
Zhou rhetorically asked how India had the "courage" to enter the area, emphasizing that "you had no right to do that … you were not invited by Bhutan."
"This is not Chinese territory!" Mehta fired back while seen reading a piece of paper. "The Bhutanese said loud and clear that it is a disputed territory … and asked not to disturb the status quo."
Tensions between Beijing and Delhi quickly escalated this June when Chinese construction brigades started building a road on the plateau. Bhutan requested help from India, which deployed troops along the border.
India opposed the construction of the road, arguing it will give the Chinese a solid leverage in moving closer to the strategic Siliguri Corridor, also known as the 'Chicken's Neck,' a narrow stretch of land which connects India's northeastern states to the rest of the country.
China demanded that India withdraw troops from Bhutan, citing as a rebuttal of its claim historical documents which it says prove the plateau belongs to Beijing.
Also in July, the Chinese military staged massive live-fire drills in Tibet, lying in proximity to the Doklam plateau. The war games involved soldiers armed with rocket launchers, machine guns and mortars.
In a statement on Wednesday, Beijing said Indian troops were still present on Chinese territory, and that China had acted cautiously, demanding that Delhi pull out its forces.
"But the Indian side not only has not taken any actual steps to correct its mistake, it has concocted all sorts of reasons that don't have a leg to stand on, to make up excuses for the Indian military's illegal crossing of the border," the Chinese Foreign Ministry said, as cited by Reuters.
You can share this story on social media: