'Avoid escalation': China demands India withdraw troops from disputed Himalayan territory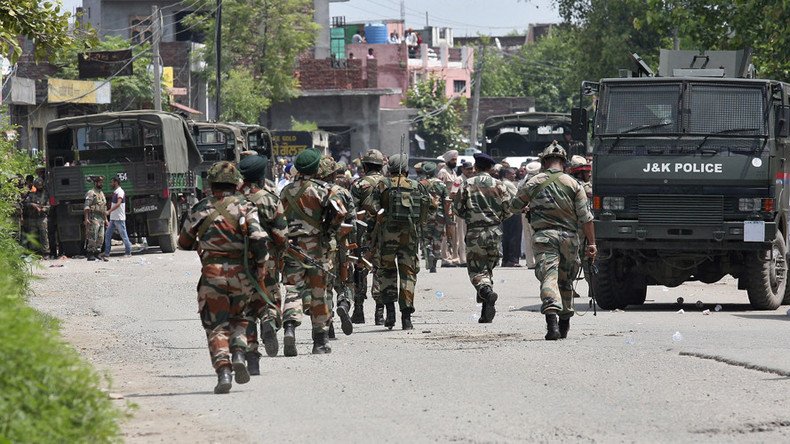 China has reiterated its calls for India to withdraw troops from a disputed territory in the Himalayan mountains, to avoid an "escalation of the situation." It comes after China recently staged live-fire drills in the region.
Speaking at a news conference on Tuesday, Chinese Foreign Ministry spokesman Lu Kang urged India to withdraw its troops from the area near the Chinese, Indian and Bhutanese borders.
"We have stated many times that we hope the Indian side will get a clear understanding of the situation (and) immediately take measures to withdraw the troops that illegally crossed the border back to the Indian side of the border," Lu said, as quoted by AP.
He went on to state that Indian troops must withdraw before any talks can take place over the disputed territory.
China and Indian ally Bhutan have been locked in a standoff over the territory at the tri-junction of the three countries' borders for decades.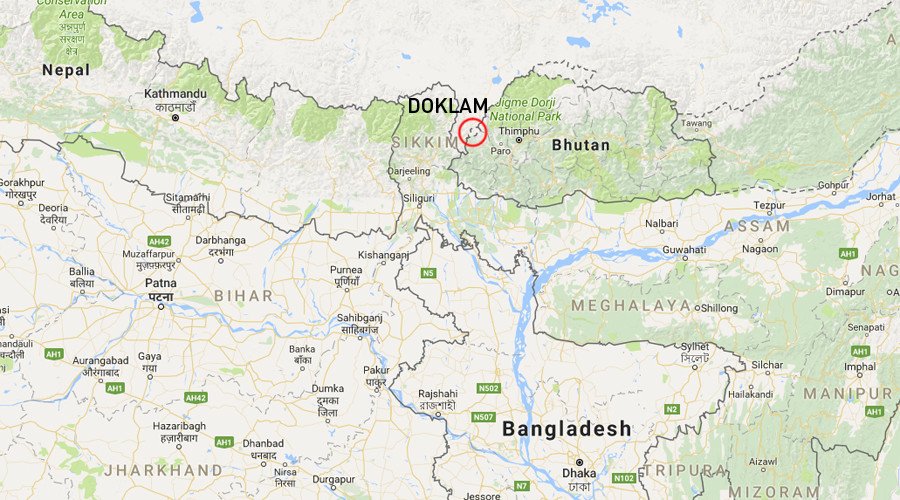 Tensions between China and India – which backs Bhutan's territorial claims – intensified on June 16, when Chinese teams began building a road at the disputed Doklam Plateau, which India says is Bhutanese soil.
Bhutan responded by requesting assistance from India, which sent its troops across the border.
Delhi also warned Beijing that the road was a "serious security concern" because it would give China access to the 'Chicken's Neck,' a thin wedge of land that links India's seven northeastern states to the rest of the country, NDTV reported.
The deployment of Indian troops to the area infuriated China, which retaliated by closing a nearby mountain pass that Indian pilgrims use to reach Mount Kailash, a sacred Hindu and Buddhist site in Tibet.
Lu's Tuesday remarks came just days after China staged 11 hours of live-fire drills in Tibet, near the disputed territory.
Those drills included an army brigade equipped with rocket launchers, heavy machine guns, and mortars, the CCTV news outlet reported on Friday. They also involved tracking and targeting "enemy planes."
Both India and China strengthened their troops in the area in June, with each side adding about 3,000 soldiers.
Frontline troops do not typically carry weapons, in an effort to avoid escalation. They do, however, reportedly sometimes physically clash in an effort to force the other side back, bumping chests in a practice dubbed "jostling."
Meanwhile, Chinese state media claims that India has a total of 200,000 troops stationed in areas it disputes with Beijing, outnumbering Chinese forces by as much as 15 to 20 to one.
The territorial dispute centers on disagreements of where the tri-junction of the three countries' borders lies. China says its territory extends south to an area called Gamochen, while India says Beijing's control ends further north, at Batanga La.
To support its claim, China has provided historical documents which it says prove the Doklam Plateau belongs to Beijing. Those claims have been disputed by India, which has accused China of cherry-picking facts to suit its agenda.
The standoff is the longest to take place between the Chinese and Indian armies since 1962, when the two sides fought a brief war over tensions surrounding Tibet and other points along the border, in which China emerged victorious.
You can share this story on social media: