India's extended-range supersonic missile makes 'historic' maiden flight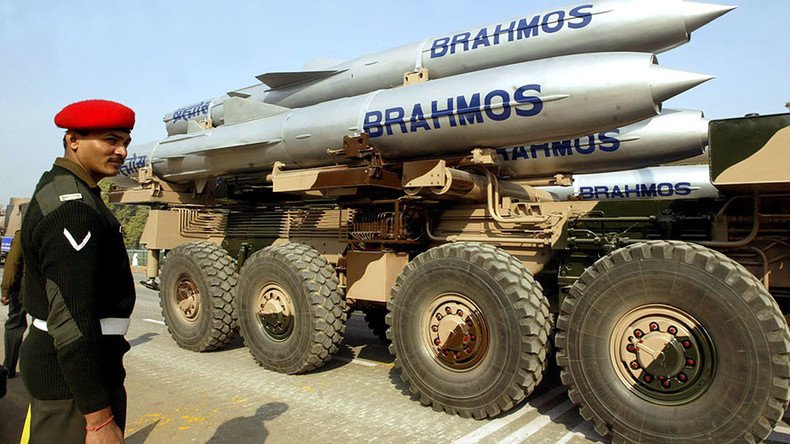 India has successfully tested a version of the BrahMos supersonic cruise missile with its range extended from the original 300km to 450km. The extension was reportedly prompted by India's joining a rocket technology control treaty last year.
On Saturday, an upgraded BrahMos made its maiden flight from a mobile launcher at a testing range near Chandipur, Odisha state, the Indian Express reported. Kumar Mishra, managing director of BrahMos Aerospace Limited, the joint venture handling the project, who witnessed the test, called it a "textbook launch."
"In a historical first, the formidable missile system once again proved its mettle to precisely hit enemy targets at a much higher range. The land-attack version of the supersonic cruise system met its mission parameters in a copybook manner," Mishra was cited as saying.
The version of the missile used in the launch had an upgraded guidance system and was reported as having a range of 450km.
"With the successful test firing, the Indian armed forces will be empowered to knock down enemy targets far beyond 400km. BrahMos has thus proved its prowess once again as the best supersonic cruise missile system in the world," Mishra said.
BrahMos is a missile based on the Russian P-800 Oniks anti-ship rocket. NPO Mashinostroyeniya, the developer of the Oniks, teamed up with India's Defense Research and Development Organization (DRDO) to develop the joint project, with Moscow providing the propulsion system and India responsible for the guidance missile.
The original BrahMos has been in service since 2006, but its range was specified as 300km. The reason was reportedly not technology limitations but rather legal restrictions. Since 1995, Russia has been part of the Missile Technology Control Regime (MTCR), an international agreement that limits export to potentially dangerous actors of crucial rocket technology that can be used to develop delivery systems for weapons of mass destruction.
At the time BrahMos was being developed, India was not part of the MTCR, joining the regime only in June last year. Shortly afterward, India and Russia agreed to upgrade the cruise missile, potentially doubling its range to 600km.
READ MORE: Pakistan conducts 1st test of 'Ababeel' nuclear-capable surface-to-surface missile
BrahMos missiles can travel at speeds of up to Mach 3 and can carry a conventional payload of 300kg. The types of rocket currently in service are land-launched and ship-launched, but submarine-launched and aircraft-launched versions are in the testing phase.
The Russian-Indian joint venture is expected to develop another hypersonic missile dubbed BrahMos II
You can share this story on social media: