US B-1 bombers join S. Korean jets for live-fire drills in response to North's missile tests (VIDEO)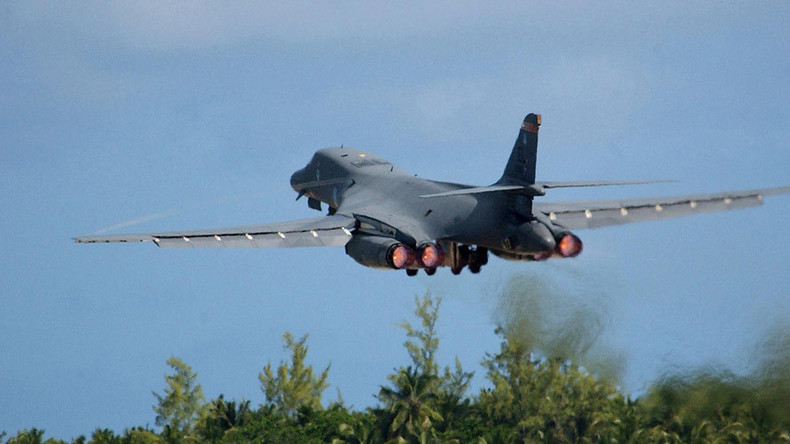 Two US B-1 strategic bombers joined South Korean fighter jets for a live-fire exercise involving the mock destruction of enemy missile launch sites. The drills came days after North Korea said it had successfully tested an intercontinental ballistic missile.
The bombers took off from Andersen airbase on the Pacific island of Guam and flew to the Korean Peninsula, AP reported.
They were then met by South Korean Air Force F-15K and F-16 fighter jets over the eastern province of Gangwon, to take part in the simulated destruction of enemy ballistic missile launchers and underground compounds, South Korea's military said on Saturday.
The aerial drill was to "sternly respond to the series of ballistic missile launches by North Korea," the air force said, as cited by Yonhap news agency.
US commanders said the mission, part of which took place near the Demilitarized Zone (DMZ) separating North and South Korea, was to show force to Seoul's neighbor and demonstrate "the ironclad US commitment to our allies," according to AP.
"North Korea's actions are a threat to our allies, partners and homeland,'' General Terrence O' Shaughnessy, commander of US Pacific Air Forces, said in a statement. "Let me be clear: If called upon we are trained, equipped and ready to unleash the full lethal capability of our allied air forces."
Lieutenant General Thomas Bergeson, deputy commander of US Forces Korea, said that "US bombers and Republic of Korea fighters are just two of many lethal military options at our disposal." He added both the US and South Korea are prepared "to use the full range of capabilities to defend and to preserve the security of the Korean Peninsula and region."
READ MORE: N. Korea's 1st ICBM launch shown on state TV (VIDEO)
The bellicose statements followed a recent flare-up in tensions in the region. Earlier this week, North Korea claimed it had successfully test-fired its first intercontinental ballistic missile (ICBM), the Hwasong-14, which reportedly traveled 933km in 39 minutes, reaching an altitude of 2,802km.
Footage released by Pyongyang showed the missile – mounted in a wheeled chassis – moving to a launch site at an undisclosed location. The test was declared a success, with North Korean ruler Kim Jong-un saying it was a "gift" for the "American bastards" as they marked Independence Day on July 4.
On the night after the launch, the US and South Korean militaries also conducted a joint exercise, launching short-range tactical missiles into the sea. Additionally, Washington and Seoul are planning to stage massive war games in the near future, despite calls from Moscow and Beijing not to stir up tensions.
Russia and China drafted a roadmap based on "double freezing," meaning that North Korea would be offered to halt missile and nuclear activities in response for the cancellation of large-scale military exercises between South Korea and the US.
However, the US appeared reluctant to accept the Russian-Chinese proposal. Speaking at a UN Security Council meeting shortly after the latest test, Nikki Haley, the US envoy, said Pyongyang had "no care for Russia or China in this. They have not listened to anything you've said. They are not going to listen to anything that you say."
The US State Department also refused to cancel the upcoming US-South Korea drills, arguing they do not compare to North Korea's missile and nuclear tests. "These are all things that have taken place since the 1950s. So that wouldn't change," Heather Nauert, the State Department spokeswoman, said.
The American military is also due to step up testing of its THAAD missile defense systems in light of possible deployment in South Korea. A test aimed at verifying THAAD's efficiency against ballistic targets will be conducted by the Missile Defense Agency (MDA) at an Alaska launch site "in early July," the agency told Reuters.